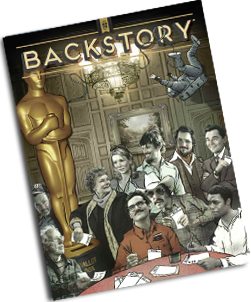 Click image above to display full-page artwork!
Folks,
Backstory issue 10 is now live on the iPad!
(all versions – even the mini)
We publish exclusively on the iPad and hope to have our magazine on the web in early 2014, so please understand this is a temporary home page.
There's a ton of great pieces in issue 10 – so – please help yourself to a free PDF of the table of contents by clicking the link near the top right of this page.
Issue 10 contains plenty of in-depth interviews with the top directors, screenwriters, playwrights, artists along with video, multimedia elements and full length scripts and excerpts for you to read!
The tenth issue of Backstory is jam packed with full-length interviews from today's most innovative storytellers and includes:
In support of our cover, we have five stories from Oscar nominated screenwriters in regards to their favorite scenes and toughest scenes to write, plus you can read the excerpts and full length scripts as well. The participating films include 12 Years a Slave, Before Midnight, Dallas Buyers Club, Nebraska and Philomena.
Plus: In depth TV pieces from the showrunners of The Americans, House of Cards and The Walking Dead, the writers of Captain America: The Winter Soldier, Huge Sundance 2014 coverage including interviews with the writer-directors behind this year's winning films Whiplash and The Skeleton Twins, behind the scenes looks at Oscar documentaries The Act of Killing and 20 Feet From Stardom, read a full Black List script, current cinema pieces on Muppets Most Wanted, Philomena, Vampire Academy and so much more!
How much more? Download or view a full issue 10 Table of Contents PDF on the top right!
TO READ IT RIGHT NOW: Type Backstory into the iPad App store and you can download the Backstory app for free.
Once you've downloaded the app – it will open on your newsstand and when you touch the cover, it will then open the app offering you issue 01 for free (for a limited time) or issues 02, 03, 04, 05, 06, 07, 08, 09 and 10 for $4.99 each.
If you want to save some money, please consider subscribing!
If you do not own an iPad – stay tuned for updates! We will be launching a web version RIGHT HERE hopefully in early 2014 – so please check back soon!
—Thank you for helping spread the word and remember Issue 01 is still free!—
WE'RE BUILDING THINGS FAST – CHECK BACK SOON FOR UPDATES!