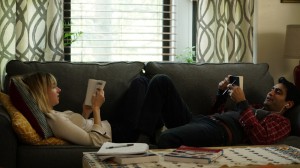 Very few were surprised to see The Big Sick sell for $12 million at Sundance (to Amazon Studios) because if you were in the room, you knew you just saw a hit. Comedies are safe bets and a comedy about an up-and-coming comedian has over recent years become an even safer genre, thanks to 2016's Don't Think Twice and the critics darling Sleepwalk With Me which was a hit at Sundance in 2012. And just as that film had the passion of it being an autobiographical coming of age tale, so does The Big Sick.
First and foremost, Kumail Nanjiani lands his jokes perfectly, and audiences are already familiar with him via his role as Dinesh Chugtai on Silicon Valley. What makes The Big Sick different is how Nanjiani invites us into a time in his personal life when he fell into a deep identity crisis, both professionally and personally.
When we meet him in the film, he's carved out a modest niche as the only Pakistani-American comedian in Chicago, but one in which he still drives for Uber and hopes for a big break. After one of his shows he meets Emily, a white gal who he soon falls for, which creates a heap of trouble. His family would never allow him to pursue any path outside of the scope of having an arranged marriage with a Pakistani woman. Thus he faces the central question of going with his heart and being banished from his family or being the miserable "good son" forced into a marriage with a woman he barely knows.
At the film's Sundance premiere producer Judd Apatow said Nanjiani and Emily V. Gordon took three years to co-write the script. The project clearly benefitted from being able to take its time to find its path. As an ensemble piece most characters have clear arcs and their own unique voices, but there's also an intimacy to them as these characters are taken directly from Nanjiani's own life.
While comedy is used in Nanjiani's bourgeoning relationship, it's also utilized to create a fly-on-the-wall perspective of Pakistani-American life so that we fully understand the stakes at hand when considering what Nanjiani will forgo if he goes against his parents wishes.
Often dramadies feel cliche as it's a well-worn genre, but here Nanjiani easily manages to tug the audiences' heart strings when encountering feelings of confusion and love that he himself underwent. There's a sense of urgency for Nanjiani to arrive at his answers as he faces multiple ticking clocks and an array of forking pathways concerning which way his life may go.
Even with a great script, in the wrong hands the film might have been a disaster, but director Michael Showalter (a great writer-actor in his own right) brought to life a believable world that the audience often experiences in a near vérité fashion. He also elicited fantastic performances with a cast that mostly came through the ranks as comedians long before their film careers.
The Big Slick played as a premiere at Sundance and therefore is unable to be considered for The Waldo Salt Screenwriting award, but its pages hold such comedic and dramatic weight that it will without a doubt be considered for Best Original screenplay nominations in 2018.
–Jeff Goldsmith
***BACKSTORY***is an iPad magazine – get the free app and issue 01 to test it out. See our table of contents at www.backstory.net – stay tuned – the full magazine is coming to the web in 2017!
FROM THE SUNDANCE GUIDE:
Based on the true story of the film's writers (and real-life couple), Emily V. Gordon and Kumail Nanjiani, this modern culture clash shows how Pakistan-born Kumail and his American girlfriend, Emily, have to overcome the expectations of his family and their 1,400-year-old traditions. As his parents relentlessly set him up with potential brides for an arranged marriage, Kumail navigates treacherous waters in the worlds of both dating and stand-up comedy.
Produced by Judd Apatow, The Big Sick features a sterling collection of comedy talent in front of and behind the camera. Having acted in numerous previous Sundance Film Festival selections, Michael Showalter returns this time as a director with a hilariously insightful film that shrewdly puts the spotlight on its writer/star Kumail Nanjiani (HBO's Silicon Valley). A revered comedian, Nanjiani shines in the lead role, bringing his singular voice to center stage. Mining his personal stories for comedy gold, he shares his experiences that are uniquely Pakistani but will resonate for everyone who has ever fallen in love.
Director: Michael Showalter
Writer: Emily V. Gordon / Kumail Nanjiani