Backstory publisher Jeff Goldsmith interviews screenwriters and filmmakers alike about their creative process! Use the player below to listen or download episodes by subscribing for free to The Q&A With Jeff Goldsmith in iTunes. Most episodes are recorded from the popular screening series. If you would like to attend a screening, sign up through the screening series page.
Current Episode: Avengers: Endgame Host Jeff Goldsmith interviews writers Christopher Markus and Stephen McFeely about their record breaking film at Comic-Con 2019.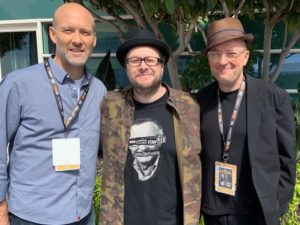 Select the menu button in the podcast player below and then select "episodes" to pick which one you'd like to hear!