If you enjoy what you read below – we hope you'll join us to read the rest of the issue by subscribing to Backstory Magazine!
Aisling Bea gets candid about the mental challenges of writing during lockdown and the process that resulted in one of the best shows on television.
By Danny Munso
There's nothing on television quite like This Way Up. Writer/star Aisling Bea's Hulu/Channel 4 comedy has somehow gotten even better and deeper in its second season, mixing its creator's trademark humor with a heady exploration of depression, loneliness and our need for human connection. And while the show's new episodes would be a triumph in any era and under any circumstance, the fact that they were written and produced in the midst of a global pandemic underscores the mastery at work here. Bea got the official greenlight for a second season in November 2019 and began her writing in March 2020, only a week before the COVID lockdown. She is refreshingly open about the impact that had on both the writing process of the show and the mental state she was in while penning in. "It made it ten times more awful than it could have been," she says. "It made all the difference. It wouldn't have taken me as long and it wouldn't have been as hard. What you realize is time isn't the issue. It's inspiration. And with the lockdown you knew you technically could write that day but sometimes it just wasn't there."
For the uninitiated, This Way Up's first season opened with Shona (Sharon Horgan, also an executive producer and creative consultant) picking up her younger sister Aine (Bea) from the hospital after the latter suffered a nervous breakdown and attempted suicide. While the show's first season chronicled Aine's attempt to reintegrate with something close to normalcy, she is in a healthier place when season 2 opens. She is in a burgeoning relationship with Richard (Tobias Menzies), the father of one of her ESL students and she has an exciting new job possibility on the horizon. Shona meanwhile is dealing from the fallout of her decisions in the season 1 finale where she accepted the proposal of her longtime boyfriend Vish (Aasif Mandvi) and started an affair with her new business partner Charlotte (Indira Varma). But the true love story of the show is between the sisters themselves, who unconditionally love and irritate one another throughout the series.
Bea has been a standup and performer for over a decade but admits she is still trying to find a concrete process as a screenwriter. "I've been trying to find what that is," she says. "Sharon sits down and just writes. If she has two hours, she'll use two hours. That's not how I work at all. I can take a year to collect ideas and keep them in my Notes app or screengrabs and they go into the pot. It starts with little connections of things. Sometimes something will end up in a conversation or sometimes it's just a feeling I want to get across." Because the seasons are only six episodes long, it's important to her to track the events of all six simultaneously, even if she will only work on one script at a time. To do that, she bought scheduling calendars normally used for people to plan out their week, only she used them to plan a season of television. "I work a lot better with pen and paper for sketching out stuff so when I see it in a big picture like that, that helps," she says. "I like to look at them all and see how I feel when I look at the episodes all together and look at the show as a whole."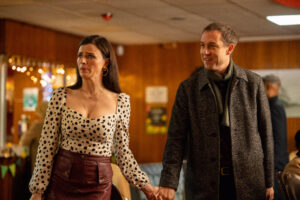 This extended to the computer as well where she kept documents open for all six scripts throughout the 9-month writing period and could make notes in each one on possible events or character moments that might work in that particular episode. Because of her standup background, she concedes writing the dialogue between the characters comes naturally; it's the overall structure of the story that she's the most concerned with. "The scenes go quickly," she says. "I never worry about coming up with a joke. I never worry about oh is this funny. It's the plot that takes ages and finding an interesting way to show things."
Bea couldn't have known while writing season 1 that she would be afforded the opportunity to write more episodes and therefore didn't have a concrete plan for what a second season of the series would look like. "I threw all my cliffhangers into season 1 not knowing if we'd get recommissioned," she laughs. "You really never know if something's going to turn out. It was two and a half years ago when I wrote the other (season). I'm a different type of writer and I've experienced more things in life. So while I want to come in and tackle the things I left people with in season 1, I didn't want to just pick things up the next week." This is an especially astute decision regarding Shona and Charlotte's relationship. In the season 1 finale, we saw them kiss, yet in the season 2 opener—which takes place a few months later—we find out that they had a brief, passionate affair but Shona has ended it, leading to major tension at work between the two as they try and get their new business off the ground. Bea could have easily explored their relationship in the early episodes of season 2 but instead she made the wise choice to skip that and open with something more interesting: the aftermath. "Sharon and Indira are such incredible actors but we already saw them together in season 1 so it would have just been an elongation of that to show them in bed together or something," she explains. "I wanted to get to the emotional fallout. That was more interesting. I wanted to explore a relationship that can turn into a meaningful friendship if you can make it work. One of my favorite scenes is the two of them together when they finally have it out. I loved watching them rehearse and act that. It was real privilege to have them in my scene."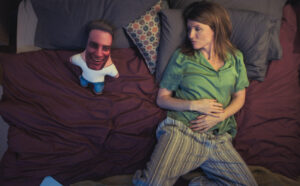 There is only one question about season 2 that Bea preferred not to answer during Backstory's time with her. When prompted that the season 2 storyline involving Vish being in New York for all six episodes and separated from the other character might have been necessary because of CVOID, she thoughtfully declined to say. "I decided I wasn't going to answer questions like that because it's kind of like saying oh what was the other outfit you were going to wear tonight?" she laughs. "I don't want people to look at the show like it was a plaster or makeshift. The show is the show." She then jokes that she wanted to add a PSA of her speaking to the camera at the end of each episode. "I would just go so you know, if you don't like this and you're about to tweet about it, here's what we were fucking up against," she says. "And here's what was happening that day as an airborne virus was flying around and we were trying to make my show on a UK budget. But you don't get to do that." Whatever the reason behind it, Vish's exclusion from the main narrative actually works to the story's benefit. Bea does a brilliant job showing how his absence is affecting Shona, who spent much of the first season worrying about Aine's well-being. In the second season, we see Shona isolated a bit and it makes for a more interesting, deeper look at a wonderful character.
Suicide is a subject entrenched in both seasons of the show and it is a personal one for Bea, who lost her father in that matter when she was only 3. (She penned a thoughtful op-ed about it for The Guardian in 2017) Though it is clearly a tough subject to address onscreen, it has resulted in two of the show's best scenes. In season one, Aine's confession to Shona about how sorry she was for her attempt was a beautifully written and performed moment and the emotional highpoint of the series to that point. Bea may have topped herself with the closing scene of season 2. We see a flashback to Aine in the facility she went to after her breakdown where she is in a circle alongside her friend Tom (Ricky Grover), who took his own life earlier in the episode. Aine is speaking to the group about her own suicide attempt and says, "I'd say to myself while it might not even be the worst day yet, it's still just one of hundreds of days that might be great. And those are some really good odds. So keep going."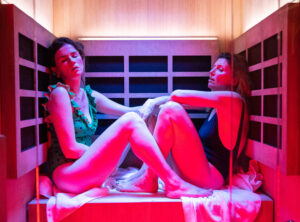 It's a beautiful, hopeful note to end the season on and a personal one for its author. "I suppose I felt there was room to put something like that in the show," she explains. "If you watched the series and felt a certain way, hold on." The meaning of the scene goes even deeper. By resurrecting Tom – albeit via flashback – she was playing with the idea of how those who took their own life may want to live after all. "I think with that end moment I was trying to do an element of sliding doors," she continues. "I work with a lot of suicide charities and mental health organizations and I genuinely believe deep down that my dad would have loved to have seen all of this and he would have been so buoyed by what I ended up doing. Maybe it was me trying to rewrite history through a character for one second. Maybe that's what I would have liked to have happened." It's refreshing to hear how emotional a process this is for a writer. "This comes at a cost to me personally because there is no writing team," she says. "It's me doing all of it. But it's also something I'm really proud of." This is the type of art that is vital and that can come at a price. But for a world full of uncertainty where one's mental health can be on the precipice at any given time, This Way Up is the story of resilience we could all use.
This Way Up is streaming on Hulu now
You can use coupon code: SAVE5 to take $5 off your subscription and get instant access!
There's plenty more to explore in Backstory Magazine and we would love to have you join us as a subscriber. Thanks for your support and stay safe and healthy!