Heads of animation Amy Smeed and Malcon Pierce detail the new methods and procedures put in place that allowed Disney to create it's latest animated epic.
By Danny Munso
It's a shame that the release of Disney's Raya and the Last Dragon has to be slightly tainted by the COVID pandemic because the film deserves to stand on its own merits. And, from the footage Backstory was invited to see last week, its merits are something quite special. Yet, the pandemic is essential to telling the story of how the film was created. More than that, the pandemic required the brilliant artists at Disney Animation to alter the way they make their films and make the best of a horrible situation, as they refined and redefined their processes in ways that they will continue to put to use long after the virus is gone and they can safely return to the studio.
As the heads of animation on Raya and the Last Dragon, Amy Smeed and Malcon Pierce were crucial to those efforts. A typical animated film takes about four years to make and animation is one of the final steps, usually occurring in the last year of production. Sure enough, in March 2020 when the pandemic forced everyone at Disney to work from home, barely any animation had begun for Raya, which tells the story of lone warrior Raya (voiced by Kelly Marie Tran) and her efforts to track down the last remaining dragon in her divided world of Kumandra to defeat an ancient evil and reunite her lands. "We had five shots that were in progress before we got sent home," Smeed recalls. "So basically 99.9% of animation was done from our homes."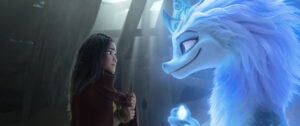 The actual nuts and bolts of an animator working on a scene is a relatively easy transition from the office to the home. Computers can be set up in any location. What's not as easy to duplicate is the interaction each animator has with the creative heads – not just Smeed and Pierce but the film's directors Don Hall and Carlos López Estrada – who all need to view what the animators are working on and give notes on how to tailor that animation to the director's vision for a given scene. And it wasn't as simple as everyone logging on to a Zoom call. "Animation is so frame by frame," Smeed explains. "We spend so much time on the timing of a scene so one or two frames can be a huge difference and in a virtual environment, sometimes there can be a little lag in the video and even if it's just slight, it can really make your animation feel different. So that was one of the first things Malcon and I had to figure out: how are we going to show our work to the directors."
Their solution was a two-screen experience: the animators, department heads and directors would be on a video conference with one another, but the animation was all viewed on each individual's iPads off an internal Disney server, meaning there was no lag to what each person was seeing. "What was really cool about the iPad and everybody reviewing the scenes at the same time was everybody could focus on certain parts if they had something they wanted to talk about," Pierce says. "If one of the directors was having a conversation about a moment or an expression, I could do a drawing of what they were thinking without disrupting the conversation or the flow of the room. And then that drawing would spark further conversation." So instead of everyone involved sitting in a giant theater in the Disney Animation building where notes are given verbally to each animator, the iPads allowed Smeed, Pierce and the directors to visually draw the notes as well if they wanted. The new process was so successful that Pierce thinks the studio will keep the iPad element going forward, even when in-person meetings can resume. "That's something we want to hang onto post-COVID," he says. "It's great to have the ability to have the reviews going on simultaneously as well as on the big screen so you're not always disrupting the flow of the room with constant feedback. It's made the process really mobile which is cool."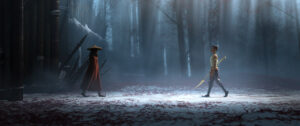 Pre-COVID, animation dailies in the Disney Animation theater would serve as a way for as many animators to gather as possible so they could hear the notes being given on shots, even if it wasn't their own being reviewed. That was something the Raya creative heads didn't want to lose in their virtual reviews. "It's really important to hear the notes from the directors and supervisors because you learn that much more about the characters and what the directors' sensibilities are," Smeed explains. "But oftentimes when we're in the Animation building and you're working on your shots, sometimes you don't have time to sit in the theater if you have a deadline you're working towards. In this new virtual environment, an animator could have two monitors on so they can be working on their shot but still listening to the conversation." Pierce compares the level of interaction between the animators on Raya with that of his first film for Disney, 2010's Tangled. "As our schedules get more intense and artists need to focus on their shots, there's a lot less casual interaction with dailies," he says. "But I feel like all the way through the end of production, we had a majority of the team in dailies. That was something I remember on Tangled, the majority of the team was in dailies more often so we were hearing the notes and we were seeing the patterns. It helps with consistency."
Water is a major part of the animation for Raya. The titular dragon of the film is Sisu (voiced by Awkwafina) who is a water dragon and – in one breathtaking sequence we were able to view – has the abilities to run on top of raindrops. The animation of the water feels like a giant leap forward from even five years ago when Moana, another water-based adventure, was released. Smeed was the head of animation on that film and said that the innovations they made for Moana played a big part in Raya's animation. "Water and hair are some of the most difficult things for us to do in animation," she says. "So much technology and effort went into figuring some of those things out for Moana so that was helpful for Raya because we weren't having to start from scratch. We could take what we learned from Moana and then push it forward on this film."
Besides the technological innovations that occurred in that five year period to make Raya's animation so beautiful, Pierce details a major process change that he believes led to Disney doing its best work yet. "We made a big effort on this to not show things in isolation whenever possible," he explains. "We decided really early on – and all of the departments were very much in partnership in doing this – to let everybody do a rough pass on each bit of animation." This means that when possible, the animation reviewed by the directors also had lighting, effects and simulations included. In the past, sometimes a shot shown in reviews would simply be a character with no other frills added, meaning sometimes that character wouldn't even have hair because that hadn't been added yet, or a particular piece of clothing that wasn't properly animated at the time, or countless other additions that make up the final shot we as an audience see on film. "For example, if a character is performing a scene in the wind, not having a feeling of the hair blowing pulls out a lot of energy from the shot," he continues. "Having a character without hair simulation or lighting feels vastly different. So on this, the first time we show it in dailies, the directors are seeing rough animation, rough simulating, rough lighting and rough effects. It allowed us to have the right level of focus on the scene instead of reviewing each of those parts in isolation." Pierce explains that this was something Disney Animation had been trying to implement for some time. "We always talked about it, but the stars were aligned on this project for it to be the first," he says. "I think especially with the work from home environment, that really helped tailor the right notes at the right time. It was cool to see and I think we can still evolve that process even further on future films."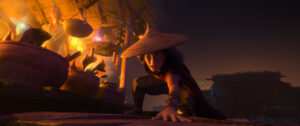 In terms of the characters, Sisu presented the animators with a unique challenge. The character is voiced by Awkwafina, an actor of considerable comedic talent, yet because of what the dragon represents to Asian culture – not to mention Sisu's importance in the story – the creative team had to find a balance between the character giving off a regal feel while still providing comedy in certain scenes. "It's a character we've never done before," Smeed says. "So developing her rig was way more complex than a human character. Awkwafina brings this huge sense of entertainment and humor, but we still wanted Sisu to be this very majestic creature. There are subtle things in scenes that people might not necessarily notice like we always made sure she was higher than other characters in scenes." Pierce adds that they never wanted Sisu to feel like a traditional Disney animal sidekick. She is much more than that and a lot of care went into bucking that trend. "A lot of that had to do with how other characters interact with her," he says. "Not leaning on her. Not touching her head. We're used to doing that kind of animation where characters would do things like that but we had to be very careful about how the character would be around her. That helps define the regal-ness and respect of that character on a subconscious level. We always had someone on dragon watch."
Raya and the Last Dragon arrives in theaters and on Disney+ Premier Access on March 5th.
Now more than ever, your support is crucial so please consider subscribing to Backstory!
You can also use coupon code: SAVE5 to take $5 off your subscription!
For animation fans, our new issue features an in-depth story on the writing of Pixar's Soul with director/co-writer Pete Docter, co-director/co-writer Kemp Powers and co-writer Mike Jones, as well as a piece on its animation with supervisors Jude Brownbill and Bobby Podesta. Thanks for your support and stay safe and healthy!
For more info about all the other amazing articles in our new issue, view our Table of Contents.