For your reading pleasure, please enjoy this exclusive preview from Issue 43 of Backstory. If you enjoy what you read below – we hope you'll join us to read the rest of the issue by buying Issue 43 as a single issue or subscribing to Backstory Magazine!
Qui Nguyen and Adele Lim traverse the land of Kumandra to pen not one but two warrior princesses for the heartbeat of Disney's new animated film.
By Danny Munso
Raya and the Last Dragon represents many firsts for Walt Disney Animation. Not only is it the legendary studio's first animated film to be based on Southeast Asian culture, but it became the company's first film to be made largely during the COVID-19 pandemic. The fact that the final year of the film's production—including 99 percent of the animation and the majority of the dialogue recording—were done entirely from the crew's homes is staggering when considering the result. Rayaseems destined for classic status, and quite a lot of that is owed to the complex character work done by the film's screenwriters, Qui Nguyen and Adele Lim.
Raya has a complex production history. The project began back in 2017, when longtime Pixar screenwriter Kiel Murray was attached. But as with a lot of animated projects—particularly an original story such as this—new talents signed on. Lim joined the project in 2018 along with actors Awkwafina and Cassie Steele, the latter set to be the voice of Raya. However in 2019, a major behind-the scenes-switch was made. In addition to Nguyen signing up to write with Lim, two new directors boarded—Disney vet Don Hall and Blindspotting filmmaker Carlos López Estrada—and the titular Raya herself suddenly had a new voice in the form of Star Wars actress Kelly Marie Tran. "When I came on, there was a loose story," Lim says. "They had a strong female protagonist, the idea for the character of a water dragon and a land that was splintered into five different parts. We always knew the story would be about the unifying of the five lands and what it was going to take to do that. Trust was a theme we toyed around with, but I think it was only when Qui, Don and Carlos came on that we really laser focused on that being the main theme of the film."
The film unfurls in Kumandra, a dragon-shaped land split into five warring factions—Heart, Fang, Spine, Talon and Tail. Raya's father, Chief Benja (voiced by Daniel Dae Kim) rules over Heart, which holds the mythical dragon gem, an ancient item created over 500 years earlier by the dragons of Kumandra to defeat the Druun, a mindless evil entity whose touch turns living things into stone. Chief Benja, eager to end the centuries of war, invites the other lands of Kumandra to Heart in an effort to make peace. However, young Raya is tricked into revealing the gem's location by warrior Namaari (Gemma Chan), the daughter of Fang's ruler. In the fight over the gem, it shatters into five pieces and the Druun return, turning many—including Raya's father—into stone. The story picks up six years later with an older Raya on the hunt for Sisu (Awkwafina), Kumandra's last dragon and only hope.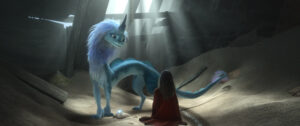 Central to the film's theme of trust is the adversarial relationship between Raya and Namaari. Like Raya, Namaari has grown into a fighter herself who begins to turn on Raya once she discovers her former friend is after pieces of the dragon gem. Their dynamic is complicated, to say the least: Tran even posited in interviews that their connection may be romantic. The two are so similar it presented some challenges for the writers. "At some points in the process, if you squinted at the movie it felt more like Namaari's story at times," Lim says. "They're both incredibly strong. They're both raised to be leaders. They both have a fierce dedication to their family." Ultimately, the writers decided to play into those similarities while highlighting the ways Raya turned out different than Namaari. "Raya has the wisdom of her father and she gets to meet Sisu first. Those are things Namaari didn't have." Nguyen remembers a screening of the film not long after he joined the creative team where he fell in love with the character of Namaari. "I loved her instantly," he says. "She's a tough superhero and was already so likable and cool." It turns out she was too likable, with the filmmakers ending up cutting one scene that saw Namaari rescue her own soldiers from an attack by the Druun. After an early screening for the Disney Animation brain trust – a collection of producers and directors from previous and future projects – they received notes that after that scene, there was no more gray area with Namaari. The audience was now on her side in a way that would have been detrimental to Raya and the other heroes. "We couldn't have people saying they didn't want to follow Raya anymore," Nguyen continues, "so we had to lose that scene immediately." (The scene will appear in storyboard form on the film's Blu-ray release in May.)
The reason the filmmakers needed viewers not to be completely on Namaari's side for most of the film is so the movie's climactic moment hits that much harder. After Raya and Namaari have a brutal and violent fight, the Druun are closing in on the pair and Raya's team—young shrimp boat captain Boun (Izaac Wong), Spine warrior Tong (Benedict Wong) and a con-baby from Talon, Little Noi (Thalia Tran). In a moment of ultimate trust, Raya realizes the only way to defeat the Druun is for them all to rejoin the five gem pieces. Since Namaari has one, that requires her to trust the person who betrayed her six years ago. To the others' shock, Raya hands her piece to Namaari and lets the Druun turn her to stone, confident that her former friend will put the pieces together and finish the job. Because of their belief in Raya, the others sacrifice themselves and follow suit, and Namaari does indeed rejoin the pieces. It's one of the most impactful, emotional climaxes in a Disney animated film and one that showcases the collaboration between the movie's two writers. "Even before I came on, there were many renditions of the ending where Namaari was always the final component," Nguyen says. "We always thought she would be the one to save the world. The only thing we did different, which was a weird gamble, was instead of everyone putting their own gem piece together, what if we take them all and give them to Namaari, and the first one who does it and is killed is our lead character? But even though that was an idea I had, it was born out of the idea to put the fate of the universe in the hands of the least likeliest candidate to save the world, and that came down to choices Adele made long before I came on board."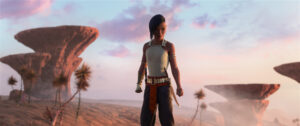 Though Namaari is largely the film's antagonist, the real external threat facing Kumandra are the Druun, a shapeless, mindless entity that visually appears as something close to the Smoke Monster from Lost. Though the writers admit crafting a villainous force that could not speak for itself and had zero personality was a challenge—Lim says the Disney artists went through close to a hundred visual interpretations of what the Druun could look like—they ultimately used that aspect to make larger thematical points about how Raya's story connects with our own world. "The Druun for us became this metaphor and allegory for things we as humans might face, whether it's famine or natural disaster or war," Lim says. "The Druun doesn't care what your political affiliation is or who you are. All the Druun care about is taking over, dividing and multiplying. That felt like a realistic enemy for the fractured people of Kumandra to have to get together and face." One of the many reasons the film connects with audiences is because it portrays a divided world and a not so subtle nod to our own. Nguyen likens the metaphor to another famous film. "We use the Druun the same way [Night of the Living Dead director] George Romero used zombies to talk about social issues," he explains. "We have this existential crisis that's in this world, so how do people respond to it? If this was going to be a movie about people coming together, we had to figure out why they didn't trust each other. Why was it reasonable for them to not get along? Well, in a zombie world it's understandable why you want to get into your corner with only your people and take care of each other. Those are the only people you trust. So what's it going to take for you all to work together?" Thanks to the global COVID pandemic, the Druun were given some extra metaphorical weight, but the writers also made sure any allusion between the Druun and the pandemic was not overt. "For a long time, Benja described the Druun as a virus early in the film," Nguyen notes. "We realized we can't say that. We had to pull back from using that word in light of what was going on."
The dragon character of Sisu provides a lot of the film's comic relief, yet the character needed to lend more than just laughs. Here she represents the last hope for Kumandra, and the writers had to walk a fine line between making the character at once goofy, regal and inspirational. "That's something we dealt with a lot through the story process," Lim says. "Sisu is inspired by the eastern water dragon, a mythological creature that has a lot of significance for the people in Southeast Asia. So even though we wanted her to be funny and a little zany and offbeat, we also didn't want to be disrespectful. I think we probably skewed too serious for the character early on but once Qui came on, suddenly the comedy and how vibrant and magical Sisu was really sprung off the page."
Nguyen is quick to lob the credit back to his co-writer. "That was all born out of the story and character Adele had created," he says. "We just needed to find a way for her to justifiably be silly without being a doofus. We realized that even though she's a dragon, she's now out of time. It's not that she's dumb, it's that she's in a world she hasn't been a part of for 500 years. That allowed us to have her be awkward and funny because she's coming from a different world." Awkwafina had signed on for the film even before Lim joined, so all iterations of Sisu were tailored to the actress in some way. The writers wanted to showcase the various sides of the actress, known for her comedic chops as well as her dramatic reach, as seen in her Golden Globe–winning turn in 2019's The Farewell, and both smile when they recall a 10-minute improv she did in the recording booth about Sisu hunting for…brisket. "We knew she could be funny and moving because we had seen her do that," Nguyen says. "But with Sisu it was a chance to see how inspiring she could be. She has to be this character that everyone will spark to when they see her. That's a new kind of thing I hadn't seen Awkwafina do before and I'm glad she got to do that with us."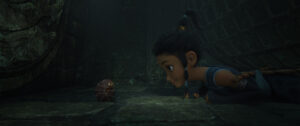 Writing for animation is a completely different process than screenwriters are used to. There are so many more hands on what you're crafting, with the script often just a jumping-off point for a scene. After the writers turn in pages, the story artists jump in to board the scenes, where they are encouraged to add their own flourishes and dialogue. Then the directors take it, and the finished version can end up quite different than what was initially penned. "These story artists serve as cinematographers, actors and directors," says Lim, who spent a large part of her early career as a TV writer, also a highly collaborative job. "They bring so much more to what you have. That can be a frustrating process if you're a massive control freak, but if you are, you shouldn't be in this field. What they bring are things that aren't really in our wheelhouse or in our toolkit. I loved the process." Nguyen notes that he enjoyed the process so much he's going to incorporate some of it into his own projects. "After being in the Disney system for a couple years, I don't feel as strong as I have in the past that my final draft has to be the first draft I'm showing people," he says. "I can say, 'Here's the general premise because I know you're going to do a thing and then I'm going to write something on top of that as well.' I want the process to be much more collaborative. It's much more enjoyable that way."
The writers were deep in Raya all through the pandemic, fine-tuning dialogue and sequences as they were being animated and voiced by the actors, who were recording their lines from their respective homes. "In animation, you don't hand in a script and then it gets made," Nguyen says. "We go by sequences, and so we're building this thing out that way. And it's never chronological. The last two scenes we locked down were the big moment in the climax and the first time Raya meets Sisu. We knew those were going to be pivotal moments in the film so those were the ones we were most precious about." But even as everyone worked differently through a pandemic, all eyes were on the goal. And Nguyen doesn't hesitate to share the wealth: "I'm not even going to pretend we had the hard jobs. The hard jobs were all done by the animators and the post team. Those people were doing things my brain can't even comprehend. And they're why the film is as good as it is."
Raya and the Last Dragon is in theaters and on Disney+ Premier Access now.
Now more than ever, your support is crucial so please consider subscribing to Backstory!
You can also use coupon code: SAVE5 to take $5 off your subscription!
For animation fans, our new issue features in-depth stories on the writing of Oscar nominees Soul, Onward, Wolfwalkers and more!
For more info about all the other amazing articles in our new issue, view our Table of Contents.