On June 25th, 2017 the medium of television leveled up a notch as a medium when co-writer-director-producer David Lynch & co-writer Mark Frost achieved a new height for innovative storytelling as evidenced in Part 8 of Twin Peaks: The Return—which aired on that date for the very first time. To mark the anniversary, Backstory dug into our treasure trove from behind our paywall to bring you the full feature interview with actor George Griffith about what it was like to play Ray Monroe on the series—and to be a part of the iconic Part 8 episode.
This article originally appeared in Backstory Issue 29.
If you enjoy this article, we hope you'll peek through the table of contents in Backstory Magazine, Issue 37 (our latest issue) and consider purchasing the issue or becoming a subscriber.  If you decide to subscribe you'll get instant access to every issue we've ever published plus the new ones as well—so thanks for considering!!
SPOILER ALERT: Important plot elements of Twin Peaks: The Return are discussed below.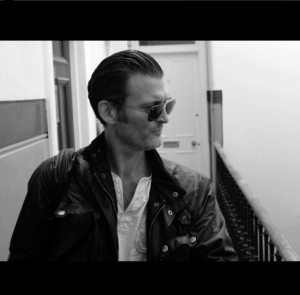 The Actor
George Griffith
Going toe to toe with Agent Cooper in Twin Peaks: The Return
By Danny Munso
George Griffith was sure to get the seat next to David Lynch. Growing up in Philadelphia and throughout his professional career, the actor and filmmaker had been heavily influenced by Lynch and his myriad of film and television projects. Now here he was having lunch next to his idol. In 2009, Griffith was able to secure involvement in a Sirius radio program about Lynch and the director's book about meditation, Catching the Big Fish. Lynch was there for the recording, and everyone involved went to lunch afterward. At the time, Griffith was prepping for his directorial feature debut, helming his own fantastic From the Head, based partly on his experiences as a strip-club bathroom attendant. He took the opportunity to ask Lynch questions about directing and was encouraged by the words of advice. A year later, Griffith had finished the film and sent it to Lynch. "It was a shot in the dark, but it was a way for me to feel like I had completed that conversation because what he said meant a lot to me," he says. "He watched it, and he really, really loved it. He wrote back and it was a hugely profound thing in my life. That could have been it for me, really."
Over the next several years, Griffith would write Lynch every now and then, ever watchful of not being a bother. Then he got word at the same time as the rest of the world: Lynch and co-writer Mark Frost were reviving their masterpiece TV show Twin Peaks for a new series on Showtime. "My head exploded," Griffith says. "My heart exploded. I thought I had to write him." So he sent him a note, explaining that he would love to work with the filmmaker in any capacity on any project he had in the future. As a P.S., he added, maybe not so subtlely, "Holy cow am I excited to return to Twin Peaks." Alas, ?, during which the show was even briefly shelved by Lynch before being revived, and then Griffith got a personal email—he didn't have an agent or manager at the time—from someone involved in the show saying they were trying to track down a copy of From The Head. "Every step was exciting in its own way," he notes of the long process, "but I always kind of let it go without expecting anything else. Each step was enough for me."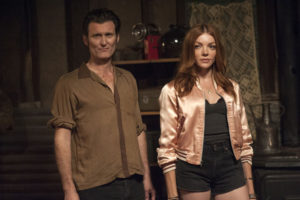 After that initial email, Griffith received another to come in and audition for Lynch. As is typical for a David Lynch production, one doesn't actually audition, and Lynch himself isn't even present. The director's preferred method is to simply meet with prospective actors remotely, and characters and dialogue aren't discussed. "It's more like, 'What'd you do this morning?' " Griffith says. "I think he just tries to get a sense of you." Griffith left the meeting unsure of how it went and didn't hear anything for a long time. While he was in Scotland performing in a couple theater productions, he received word that the production was "putting a pin in him," sussing out whether he was available on their filming dates. Not long after, it became official: He was cast in Twin Peaks, and his script pages were available to pick up. "It's this amazing thing. He really only met me once in person—and cast me as Ray."
Due to the intense secrecy and scrutiny that surrounded the return of Peaks, Griffith and the other actors were given only the pages of scripts with their characters on them, even though Lynch and Frost had penned all 18 parts before shooting began. That was the first time Griffith was told about Ray, a criminal who works for, and later against, Agent Dale Cooper (Kyle MacLachlan), the protagonist of the series. Of course, having followed the original series intently, Griffith knew this wasn't the Agent Cooper, for in the finale of the series, the real Cooper is taken prisoner in the mysterious Black Lodge and an evil version of Cooper, inhabited by a demonic entity known as BOB (the late Frank Silva) is released into the world. His first day on set was early in the shooting schedule because Ray appears in the first couple parts.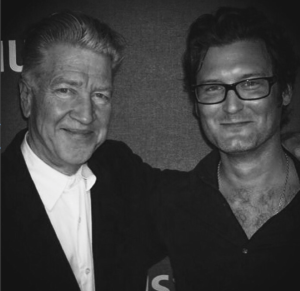 Despite having corresponded with Lynch in the run-up to his casting, Griffith hadn't seen Lynch since that lunch back in 2009. The director introduced him to MacLachlan, with whom he would share the majority of his scenes, and they were off. "As someone who was a huge fan of the show, I had to regulate some things in a really rapid way," he says. "Here was David Lynch introducing me to Kyle MacLachlan. Here was Cooper, and I was going to have coffee with him. All this was blowing my mind away. There's a part of me that could have really just blown the whole thing." He doesn't recall doing more than two or three takes on any scene the entire time he was there, describing Lynch's command over the set as focused calm. He was often asked if he wanted to go back to his trailer between setups or during shots he wasn't a part of, and he always declined, preferring to stay the entire time to watch the master at work. "I don't even know what the inside of my trailer looked like. I think I only went in there to change my underwear. He never left the set, so neither did I. I noticed how he treated everyone and how that went right down the line. It was infectious. It was energizing."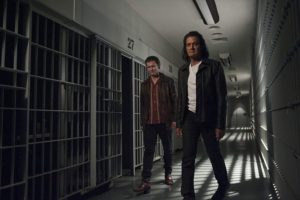 Within its 18 hours, Twin Peaks: The Return contains an unabashed masterpiece. As soon as it aired, "Part 8" entered into the pantheon of great television. Its plot and scope are hard to put into words, except to say it's a 60-minute exploration of the creation of evil personified, and Griffith plays a vital part. After Ray and Cooper escape prison together, they are driving on a dark road when Ray asks to pull over. Cooper plans to kill Ray, but Ray gets the jump on him and shoots him dead. That's when things get surreal, as Ray watches helplessly when Cooper's dead body is approached by a group of bearded men known as the Woodsmen. They perform a violent, bloody ritual of sorts on Cooper's body, appearing to extract some sort of orb that contains the face and spirit of BOB. Griffith is stunning during the scene, mirroring the audience's terrified reactions to something we have never before seen on a screen. Though the cast and crew were incredibly tight-lipped about what was being shot, even among one another, The week "Part 8" aired, he noticed that cinematographer Peter Deming commented on the episode on Instagram, saying it would be like no other. And as soon as it started, Griffith knew.
WATCH the pivotal scene from Part 8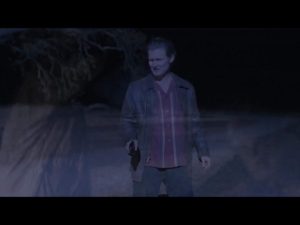 When he read the script and saw what his character would be witnessing after he shoots Cooper, Griffith immediately calculated the magnitude it represented. "For me, I was entering a club of a very small number of people who shot Cooper," he says. "I knew it was a big, big deal. It was definitely one where I thought, This might be hard. I don't want to say the other scenes were straightforward, but there are elements to this with BOB and the Woodsmen that were intimidating on the page. I decided I'm just going to trust what happens. I didn't want to get mixed up with preconceived notions of what I thought was going down." The night the scene was shot was ice cold, and before the cameras rolled, Lynch pulled Griffith aside to discuss what was about to happen. "That night, David talked to me about that stuff. He just really scared me." Griffith pauses, clearly affected by this singular moment he had with the director. "He got to me. He got in the car with me and talked to me for a little while about just how bad what I saw was going to be. And it really got to me, you know? Being scared to death is a weird thing to read on the page, but he really filled that for me. He didn't have to say a lot to have an effect. That's probably all I should say."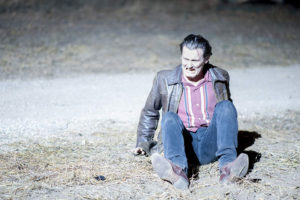 Griffith was able to act opposite MacLachlan's body and the Woodsmen for his coverage, and he saw something close to what we as an audience would end up seeing on camera. But Lynch provided him all the motivation he needed. "All those guys were there, and I knew what they were going to do. But honestly, all that stuff was kind of abstract," he says. "It was more what David was saying to me. He talked me through all that. I felt like he had me locked and loaded before we started. It was intense. It was really intense for me that night." With a few months' perspective, he can appreciate that he was a key component in a seminal episode of television, but it's still daunting. "I think I am able to acknowledge that. I feel proud. I hope I made him proud. It's amazing to have a masterpiece within a masterpiece, and 'Part 8' is that for me. When it opened with us in the car, I just thought, It's what I think it is." But after seeing the episode play out, he says, "I just went, Wow. David Lynch. Unbelievable."
Ray and Cooper have one final encounter in "Part 13" of the series, and unfortunately that doesn't go too well for Ray. Cooper shoots him dead but not before interrogating him in a scene where Ray delivers some important and curious information to both Cooper and the audience. He tells Cooper he was hired to kill him by Phillip Jeffries, a former FBI agent portrayed by the late David Bowie in Lynch's 1992 film Twin Peaks: Fire Walk with Me. Remembering his lifelong love of Peaks, Griffith paid special attention to the dialogue he had in his final scene on the series. "I read that and thought, This is the coolest thing I've read in my life," he says. "I was excited to lock horns with Coop again, and then all the info in that scene was just tiers of mind-blowing. Having all these tendrils to a lot of the legacy of the show and the mythology was exciting." Since The Return's airing, Griffith has been embraced wholeheartedly by the Twin Peaks community and will be hitting some fan festivals in the next year. Professionally, he is hoping to use the show as a boost for his second feature as a filmmaker made.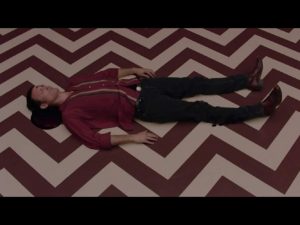 WATCH a reel of Griffith's Twin Peaks: The Return scenes
Browse, stream or buy Griffith's film From the Head
Browse, stream or buy Twin Peaks: The Return
Peek inside & read a sample from David Lynch's book Catching the Big Fish: Meditation, Consciousness, and Creativity
Visit Griffith online:
Website – Twitter
If you enjoy this article we hope you'll peek through the table of contents in Backstory Magazine, Issue 37 (our latest issue) and consider purchasing the issue or becoming a subscriber.  If you decide to subscribe you'll get instant access to every issue we've ever published plus the new ones as well—so thanks for considering!