For your reading pleasure, please enjoy this excerpt of our interview with past WGA president and novelist Howard A. Rodman as he takes us down an awesome rabbit-hole honoring the pulp and silent film criminal mastermind—Fantômas—in the latest issue of Backstory.
Note: Readers of Issue 38 get to read Rodman's entire screenplay of F. along with this article!

[The below excerpt is from the full article written by Jeremy Smith]
Howard A. Rodman wasn't looking to be inspired when, decades ago, he settled into his seat at New York City's Museum of Modern Art for a screening of director Louis Feuillade's six-and-a-half-hour silent serial based on the beloved pulp-antihero character Fantômas, conceived in 1911 by co-novelists Marcel Allain and Pierre Souvestre. The aspiring screenwriter simply wanted to fill up his day. "It was a long, long time before I could make a living solely by writing," Rodman recalls, "so I took a variety of unsuitable jobs when I was in my twenties, as one does. Among them was a job as a union organizer, and mostly we were organizing the salaried physicians in New York City." Rodman's work required him to speak to the doctors an hour before their shift changes at 6 a.m. and 6 p.m., thus leaving him a 12-hour gap to occupy during the day. Grindhouse triple bills usually did the trick, but on this day it was an afternoon spent in the company of the fictional French archfiend. Once crafted, the cunningly ruthless character took root in French crime fiction, appearing in upwards of 40 books before spawning silent serials and movies—the first of which, in 1913, starred René Navarre. Little did Rodman realize the idle hours passed on that day would strike him like lightning. "All I knew [going in] was it was a French silent film the surrealists liked and many people had found haunting. Six and a half hours later, the world looked different to me because of the time I'd spent in the dark with that film."
This newfound obsession would eventually catch fire in the form of the spec screenplay F., a modernized, Los Angeles–set riff on the Fantômas mythos that combines the high, playful style of a James Bond movie with the melancholy revisionism of Frank Miller's 1986 graphic novel The Dark Knight Returns. But his take on the character features an out-to-pasture, Hollywood Hills–dwelling relic prone to speeding across Mulholland Drive in his 1961 Lincoln convertible while blasting the Sex Pistols. Fantômas' retirement was prompted by the tragic death of his wife, Céline, who had left him to care for their beautiful, dauntingly brainy daughter, Nora. Alas, Fantômas' hilltop hibernation is disturbed by a mysterious enemy from his past, who lures the villain back into the game by forcing a reunion with his longtime pursuer, Inspector Juve. Rodman's twisty plot drags in two other nefarious pulp icons who also became silent-era hits, Norbert Jacques' Dr. Mabuse and Sax Rohmer's Dr. Fu-Manchu, for a baddie battle royale that elicits no small amount of sympathy for the once devilish Fantômas. It's a wildly entertaining, masterfully written screenplay, and it was revered enough to launch Rodman's screenwriting career, which ultimately led to him becoming president of the Writers Guild Association. And yet ultimately, in the view of the folks with the power to greenlight the tale, it was just too niche to make.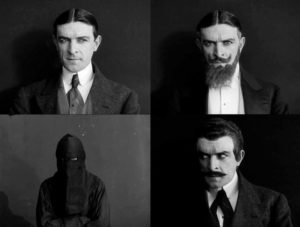 Rodman's journey to unproduced acclaim began in 1985, when his soon-to-be-wife, Anne Friedberg, landed a tenure-track university teaching job that necessitated a move to Los Angeles. Rodman, a lifelong New Yorker, found himself a stranger in a very strange land. "I was kind of blinking in the sunlight," he says of Southern California's golden grip. "On a good day, I was an émigré; on a bad day, I was an exile. It was a whole different life. I had never before been behind the wheel of a car, and all of a sudden I was in the center of automobile culture. I was somebody whose musical roots were things like the Velvet Underground finding themselves in the land of the Beach Boys." The son of prolific TV and film writer Howard Rodman (Naked City) soon came to realize Fantômas was the perfect vehicle through which he could work out his outsider anxiety. "What would happen if you took somebody with a very distinctly East Coast or even European sensibility and plunked them down in quiescent retirement in sunny, cheerful Los Angeles?"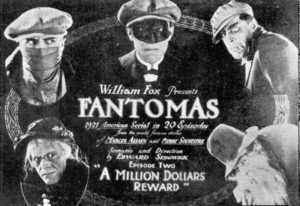 Work on F. began in early 1986, and the writing process moved fairly swiftly once Rodman hit upon the hook of the screenplay. "The idea that dropped down from the sky was you're not supposed to care if a policeman is killed," he says. "That's against the criminal code. They're your enemy." But what if the slain lawman was Inspector Juve, Fantômas' forever adversary whose fate in the books and movies was to remain always one step behind the nefarious mastermind? What if, after decades of fruitless pursuit over five continents, Fantômas and Juve had ceased their cat-and-mouse routine and achieved a détente based on mutual respect? What if someone killed your cop? "You need to find out why. Even in that oddest of ways, you might want to avenge that killing—even though it was the killing of a cop, which, as an archfiend, you're supposed to applaud. That was the set of circumstances and contradictions that led to the screenplay."
To read the full article, full F. screenplay and a lecture about Fantômas written by Rodman in the latest issue of Backstory, click HERE to subscribe or buy it as a single issue.
For more info about all the other articles in the issue, view the Table of Contents.