Did you know we interview comic book creators? They're some of our favorite storytellers!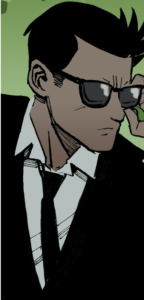 Now, for your reading pleasure, please enjoy this excerpt of our interview with music industry vet Jeff Rougvie regarding his new comic Gunning For Hits about the record business' biggest hitmaker, who also happens to be a former hitman—from the latest issue of Backstory.
[The below excerpt is from the full article written by Danny Munso]
How did a guy who seemed destined to write comics for a living somehow end up doing so after a 40-year detour in the music industry? Jeff Rougvie obtained his first comic in 1973 at the age of 10 and instantly fell in love with the medium, before long making plans to attend art school and work in the business. As it happened, the Massachusetts native also fell hard for music and began singing in a few punk bands. And while he did make it to art school, in 1984 he was offered a job opening a chain of CD stores in Minneapolis. Rougvie's boss enjoyed his work and offered him a job at his record label Rykodisc, and what was supposed to be a short stay turned into a lifelong career, where at Ryko and later EMI, he worked with the likes of Elvis Costello, Ringo Starr, Pete Townsend, Big Star, Nine Inch Nails, the Replacements and countless others. Most crucially, he helped Rykodisc obtain the rights to David Bowie's catalog and collaborated with the legend on a series of reissues in the early '90s, which led to the pair becoming friends until the star's death in 2016.
It was Bowie who inadvertently led Rougvie back to the world of comics, for which his passion never waned. In fact, he'd been crafting a story arc in his head for years and years, one actually set in the music industry. After he left EMI, Rougvie started Supermegabot, a music and toy label that creates limited-edition works, in 2012. But after Bowie's untimely death—and the subsequent 2016 deaths of Rougvie idols Prince and comic-book legend Darwyn Cooke—he took it as a sign that life really is too short and it was finally time to put that old comic idea down on paper. "I fell ass backwards into this music career that I am very grateful for," Rougvie says, "but I never stopped paying attention to comics. I had this idea always percolating in the back of my head. I was too busy to flesh it out and develop it, so it was really more just an idle concept." The story centered on Martin Mills, the music industry's preeminent A&R guy who just happens to be a former hitman. With that nut in place, Rougvie rented an office near his home in Salem, Massachusetts, so he could flesh out the character. What followed was an intense brainstorming session that produced more than 1,000 pages detailing Mills' life. "I had this arc in mind but only some very vague ideas about the character's background and future. So I sat down and started to write, and what came out was this guy's whole life, which I hadn't planned. I was just going to try and get the story done, and then I kept going back and looking at who he was and how he got to be the person we meet in this first arc. I couldn't stop myself. I wrote down all the things that happened to him, from the moment he starts to become the guy that we meet in this first story up until his death. It was this crazy flow of stuff that I couldn't stop."
To read the full interview with Jeff Rougvie in the latest issue of Backstory, please click HERE to subscribe or buy it as a single issue.
For more info about all the other articles in the issue, view the Table of Contents.