Combining the eccentricities of Wes Anderson and the emotional depth of the studio's best work, Pixar's Burrow is a complete triumph. We go inside the making of the 2D short here.
By Danny Munso
The short film continues to be an important tradition at Pixar. Though the studio is obviously best known for its unprecedented run of blockbuster animated full-length films, Pixar has been making shorts even longer than features. It renewed its commitment to the form with the creation of its SparkShorts program in 2018 as a way for the company to experiment with storytelling techniques and, most vitally, discover new filmmakers amid their large stable of artists. That is especially true for Burrow, the studio's latest SparkShort released Christmas Day on Disney+, which was helmed by one of Pixar's rising talents: Madeline Sharafian.
Longtime Pixar producer Lindsey Collins, who oversees the SparkShorts program, first approached about possibly pitching an idea. Sharafian had joined the company as a story artist for 2017's Oscar-winning Coco before becoming a lead story artist with 2020's Onward. "She asked off the cuff if I would ever be interested in a short and said, 'Let me know when you have an idea,'" Sharafian recalls. To Collins' surprise, she returned the next week with a two-page outline. "I was pretty desperate. She opened the door of opportunity, and I decided to jump through it. I just love short films so much." In fact, she'd had the core idea for Burrow years ago: a rabbit who's looking for a place to build her home has trouble asking her neighbors for help so she keeps, yes, burrowing until she is isolated and alone, and that's when trouble begins. The rabbit isn't merely a cute character, she's something of an avatar for Sharafian herself. "Rabbit" was her childhood nickname, and longtime followers will recognize the character as a recurring figure in many of her drawings. So it was only natural a bunny would be the central figure of her first Pixar short. "I had the idea kicking around in my sketchbook for quite some time. I actually dug up some old drawings of her from 2014, and then it showed up again every once in a while. When Lindsey asked if I had any ideas, that was the one that came to mind. At the time, it felt like a quick decision, but truthfully I have been thinking about this idea for a while."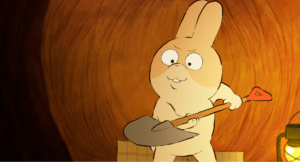 Burrow may be Sharafian's first credited professional directorial debut, but that's really in name only. One reason the short has become such a triumph is because Sharafian's storytelling skill has been well honed over a number of years. Before arriving at Pixar, her brilliant CalArts student shorts garnered wide acclaim before she even left school. She then worked on the Cartoon Network series We Bare Bears, where she boarded and wrote full episodes. And finally, those familiar with animation know a story artists are asked to think like a director. They pitch full sequences of a film in storyboard form, and artists are encouraged to add their own ideas and come up with exact scene shots. Sharafian is also simply a gifted short-form storyteller, as the short comics she posts to social media often illustrate. (For evidence, click here, here and here.) So when the time came for Burrow, Sharafian was more than equipped to step into the director's chair. "I think some advice I got early on about directing is that people will come to you with questions and you need to be able to answer them in terms of the story," she says. "If I have a solid story reason why they need to do something, that assuages their fears and lets them know they're putting in effort for the right reasons. It also checks me as well. Because of the short timeframe, we really need to be sure where we're putting our effort. Having the story as the focus was super helpful for me as a first-time director."
In an extreme rarity for Pixar, Burrow is completely done in 2D animation. But because one of the early SparkShorts — 2018's Oscar-nominated Kitbull — was made in 2D, Sharafian didn't have to do much convincing to make hers that way as well. And from a purely practical standpoint, the choice to do 2D made sense, as Sharafian had used TVPaint — the same software program that would be used to create Burrow — for her student films. "I knew if I chose that program I'd be able to do a lot of the hands-on work myself to try and push things forward," she says. But there was also a major creative reason for Sharafian to do the short in 2D. As the little rabbit travels from burrow to burrow looking for the perfect spot for her dwelling, she comes upon many other homes inhabited by various animals. If the short were done in Pixar's traditional 3D style, each of those homes, which appear onscreen for just a few seconds, would have to be completely computer built. "I wanted a lot of really detailed and intricate backgrounds with a lot of different sets. With the shorter time frame and smaller budget [than a Pixar feature], there was really no way we could get all of those details, like libraries or kitchens, if we weren't drawing them. It ended up having just the right amount of detail because we could draw it and still move fast." In other words, because of the choice to move to 2D, audiences now have the gift of knowing what a home gym for moles looks like.
Sharafian boarded the entire short herself, but as the credits note, a couple dozen Pixar individuals that made up the Burrow story trust were on hand to help with aspects of the plot. They served as a sounding board for Sharafian as she ran through ideas, and it's a role she has reciprocated for a few of the other SparkShorts. "Even though I storyboarded it by myself, that doesn't mean I can operate as the sole brain," she says, echoing the lesson learned by Burrow's rabbit. "Unlike our features and the older shorts, we didn't have any executive oversight, so I got to pick my own team. Many are other story artists, and it was super invaluable to check in a lot." One aspect of the short the director kept questioning was the ending. Originally, after the rabbit asks for and receives help from her fellow creatures, Sharafian wanted the film to close on a wide shot showing all the interconnected burrows. While that would have communicated the sense of community she wanted to convey, it actually wouldn't have been as strong as what is there now. In the finished version, we see the rabbit going quickly from burrow to burrow, checking in with various other inhabitants. Not only is it a stronger emotional beat, but it was a much more feasible ending from an animation standpoint. Acknowledging the amount of animation that would be needed to have all the furry characters onscreen at once, Sharafian adds, "I quickly realized that wide shot would be a real pain to do. We found a pan-through was more efficient because it made it more like a Disneyland dark ride, where if the characters are on camera they're activated and animated, but the second the camera is gone they're totally frozen. It also helped show the animals were all together now and connected."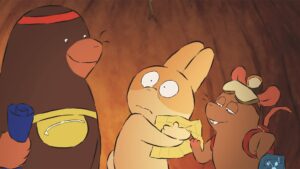 Other than some animal noises that help get the point across, Burrow is devoid of dialogue and instead relies on animation and score (a selection of Mozart pieces, save for a delightful bossa nova track at the end the rabbit enjoys in her disco ball–illuminated bathtub). "I just really like lyrical, music-based animation," Sharafian says. "I don't trust my own dialogue skills and I don't want to write something really cringey, so I don't even let that be an option. It also helps with story clarity. If you know you don't have dialogue to rely on, you really need to make sure you get things right with your shots and acting choices in the animation."
The original plan was for Burrow to be paired with Pixar's Soul and become the first SparkShort given a theatrical release last year. The COVID-19 pandemic scuttled that idea — the films premiered on Disney+ together last Christmas — but Sharafian is still excited that Soul's director and Pixar head Pete Docter personally chose her short to accompany his movie, especially since his 2001 film, Monsters, Inc., was a major inspiration to the filmmaker in her youth. "I had no clue and didn't even realize this was an option," she recalls. "They asked, "Would you like this to be in front of Soul because we've already asked Disney and they said yes. I loved Pete's movies so much growing up, so even knowing that he's watched [the short] and liked it—that was enough for me." Because of the pandemic, the Pixar offices have been closed for months, yet the work on its future films continues. Sharafian and her fellow story artists have been able to manage their meetings via Zoom as best as possible. "A lot of our time is spent boarding, and that's something we've been able to do really well at home so I feel pretty lucky," she says. "Our teams are small, so if you have eight people on a Zoom it's not bad. People are able to speak up and be heard. But we definitely miss it. I think it's our general wish to just be around each other. Pixar is full of such nice, sweet people, but we've been able to make some really amazing stuff even during this time."
Burrow is streaming now exclusively on Disney+
Now more than ever, your support is crucial so please consider subscribing to Backstory!
You can also use coupon code: SAVE5 to take $5 off your subscription!
For more info about all the other amazing articles in our new issue, view our Table of Contents.