For your reading pleasure, please enjoy this free excerpt from our article interviewing showrunner Patrick Somerville about Station Eleven from Backstory Magazine's issue 47 – now available to read! This is not the full article – so, if you enjoy what you've read in this free excerpt – we hope you'll join us to read the rest of the article by by subscribing to Backstory Magazine so you can read the rest of the piece and so much more!
Emmy Contenders
Patrick Somerville on the moments that make up his moving adaptation of Emily St. John Mandel's acclaimed 2014 novel.
By Danny Munso
At its core, Station Eleven is about the interconnected lives of a group of strangers. Ironically, it's a link that played out behind the scenes as well, way back before the acclaimed HBO Max series ever got greenlit. A decade ago, Patrick Somerville was a struggling novelist, years away from becoming a sought-after television writer who has worked on The Leftovers, Maniac, Made for Love and others. Somerville was promoting the release of his second novel—The Bright River—when he was put in touch via mutual friends with a fellow author who was releasing her third. They decided to do a joint reading in Somerville's native Chicago. After he picked her up at the airport, the pair commiserated about the state of the publishing industry, and Somerville confessed he was thinking of switching to TV writing. His fellow writer said she was starting a new book she hoped would be the one to break through. That woman was Emily St. John Mandel, and the book she had just begun was Station Eleven, a 2014 novel that would go on to win numerous awards and make Mandel a literary superstar.
After its release, the rights were acquired by film producer Scott Steindorff, who tried for years to get a film made, but nothing ever came to fruition. Somerville got wind of the film version falling apart and threw his hat in the ring. "I loved Emily's novel so much, and I thought it would make for a great TV show," he recalls. So he pitched his version to Steindorff and got the gig. Though Mandel's novel was widely loved, there's a reason a movie version didn't happen, as it's far from an easy adaptation. That's the conundrum Somerville found himself facing as well, and he wisely decided not to face it alone. Before doing any work on the story, he put together a mini writers' room to gather for two weeks, inviting some of his collaborators from previous series, most of whom would go on to become full-time writers on Station Eleven: Nick Cuse [yes, son of acclaimed TV writer/showrunner Carton Cuse], Kim Steele, Mauricio Katz and Gina Welch.
As astute fans of the story know, Somerville and his team decided early on to diverge heavily from the book's narrative while keeping the same core characters and thematic beats. The series opens as the book does, with the onstage death of actor Arthur Leander (Gael García Bernal), whose connection to the rest of the main characters will bind them all. Backstage, a young man named Jeevan (Himesh Patel) has become friendly with Arthur's 8-year-old costar Kirsten (Matilda Lawler as the younger version of the character) and agrees to walk her home. On their journey, Jeevan is informed by his doctor sister that the flu going around will soon become a catastrophic pandemic. Kirsten can't get ahold of her parents so she holes up with Jeevan and his brother Frank (Nabhaan Rizwan) to wait things out. Cut to 20 years later, and that pandemic has wiped out billions of the Earth's population and a now grown-up Kirsten (Mackenzie Davis) is part of a group of actors and musicians known as the Traveling Symphony. One day the troupe encounters a dangerous cult led by a mysterious prophet named Tyler (Daniel Zovatto)—Arthur's son—who begins causing trouble for the group.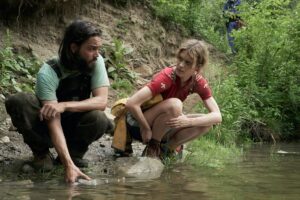 Book readers spotted a main difference right away. In the text, Jeevan drops Kirsten off at home and that is the end of their interaction. In the series, their relationship is the heartbeat of the entire narrative. The bond young Kirsten forms with Jeevan and Frank informs the adult version we see later and sets up a mystery that isn't answered until late in the show: How did they all get separated? The Jeevan-Kirsten relationship was one of the early decisions made in the writers' room that ended up informing the shape of the series' arc. "It's amazing how much we got done in that mini room," Somerville says. "Once we discovered that by connecting Jeevan and Kirsten together, we could bind the whole story together—that was it. From there we kept coming back to the end of the show, which is that all these people will end up meeting at the airport." After those ideas coalesced, he penned the first two episodes of the series, and they were used to sell the show to HBO. Then a proper writers' room was formed to plot out and pen the entire 10-episode series. "Our first task was to get into the implications of all the things we came up with in the mini room."
Another major change is the characterization of Tyler, who in the book is an irredeemable cult leader who rapes and marries young girls. Somerville is up front in saying he had zero interest in representing sexual violence on television, so that plotline was a non-starter for him. Instead, his version of Tyler still has children follow him, but he's more of a Pied Piper but still puts children in dangerous situations and is very much a dark character while retaining a bit of humanity. When thinking through Tyler, Somerville couldn't help but recall his time on The Leftovers, which also depicted a dark cult. He wanted Tyler's group in the show to be different from that. "The challenge we gave to ourselves as writers was, 'Let's try and think of a cult we might join,'" he laughs. "We're all skeptical and college educated and you'd think wouldn't be susceptible to a cult. So we talked a lot about Tyler's point of view that science was right and that it's good the world collapsed because [society] built a piece-of-shit world. These people died, but if billions were living in poverty and suffering anyway, what kind of world is it that you built? So he became a much more interesting way for us to talk about the before and after [the pandemic] in the show."
It also allowed the writers an opportunity for far more meaningful interaction between Kirsten and Tyler, who are adversaries—Kirsten stabs him in the gut early in the show—but also have a lot of commonalities, including their love of Station Eleven, a graphic novel by Arthur's first wife, Miranda Carroll (Danielle Deadwyler). "We always wanted to put the two of them in some kind of unwilling situation. Because of circumstances, these two people who don't like each other had to work together. They see similarities between each other, and the thing they share is that they were taken care of and loved by Arthur Leander, and they loved him. There's just enough in there to keep Kirsten from cutting his throat the second she sees him."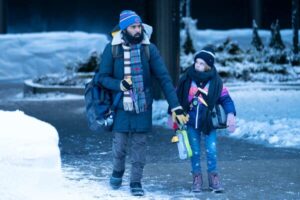 Music is such a massive part of Station Eleven it's no wonder that it played a large part in Somerville's writing process. "Ever since watching Damon Lindelof on The Leftovers, it became very clear to me that unbelievable things can happen when you knit the soundscape of music and TV together," he says. "I also worked with [composer] Dan Romer on [the 2018 Netflix miniseries] Maniac and knew he was up for a very unusual project like this." For most series, the composer is one of the final hires made, as their work doesn't begin until postproduction commences. Instead Romer was one of Somerville's first calls. "We needed to have a conceptual dialogue going long before we were in production because it has its own score. It needs to have a score written by one of the characters (The Conductor, played by Lori Petty), and it has a bunch of original folk songs written by Dan and I."
This is important to the writing because there are moments in almost every episode of Station Eleven where the music takes precedence over the dialogue. For example, there's a beautiful moment near the end of the seventh episode where Jeevan, Frank and Kirsten are performing her adaptation of the Station Eleven graphic novel. We don't hear much of the dialogue; instead, we hear Romer's folk score with a banjo as the lead instrument. It makes for a poignant scene that wouldn't work without the soundtrack. "Dan's house is a 10-minute walk for me, so a couple nights a week I would walk over to his house and we'd work on the score. We'd go scene by scene so when I was writing that scene, I'd already know things that were going to be happening in the score." Sometimes, Somerville would do more than just talk about the score. "A fun fact for you is that's me playing banjo in that scene."
Episode seven is also significant for the fact that not only do we discover Frank's fate and the event that caused Jeevan and Kirsten to leave the apartment, but it's the only time Davis and Lawler—the two actors playing Kirsten—appear together in scenes. It's a bold choice, as the audience sees adult Kirsten viewing the events in the apartment and even sees the two Kirstens talk briefly to each other. The idea could easily not have worked. Instead, it feels vital and fated that there would be an episode like this. But it came late in the process, as the show had to shut down due to the COVID pandemic after filming two episodes, and it was a thought that occurred to Somerville as the production was ramping back up after a year off. "It was sort of an abstract idea, but I wanted to get Mackenzie in there and play an important role in the apartment. Mackenzie's feedback in those late days was important, too. She liked the idea that she could watch herself and experience and learn about that time she wasn't able to perceive when she was little and maybe move forward and find joyful things about it. There's a character in the show that says, 'There is no before,' and Kirsten's been living like that. But this was a way for the show to say there is a before and we need to remember it. There was no better way to do that than to have them interact."
After getting separated a year after leaving the apartment, Jeevan and Kirsten never see each other again—until the final moments of the series finale. Both end up at the airport, where Kirsten's troupe is performing and Jeevan, who became a healer after they were separated, is tending to a patient. Somerville deftly sets it up as an almost connection, with the pair just missing each other in several scenes. At the end of the episode after the performance, the audience thinks Jeevan is gone, until he suddenly appears and Kirsten sees him. They embrace in one of the more touching television moments in recent memory. The series could easily have ended with that hug, but the writer wisely added a scene to the end that sees the pair walking and talking before coming to a fork in the road, where they split with a promise to meet up again next year. The scene is full of silence, and while the two say few words the ones they do utter are crucial. Somerville admits he overwrote the scene in draft after draft before he powwowed with both Davis and Patel to get their take on how the conversation should play out. "It feels different, because unlike any other scene in the show, we know everything the both of them know so they can just have a conversation," he says. "And that meant almost everything can go unsaid—they don't need to say sorry. They don't need all the details of what happened. There is so much feeling in there that they barely have to say anything. As a writer, it's so fun when the emotional sea is that rich because, yes, there are words in the scene and they're very specific and careful and critical, but it also feels like the whole show is sitting there on the screen. I wanted to make sure we got every emotional idea we could while keeping it grounded and real. It was sort of a beautiful way to end the show."
Since its release, Somerville's Station Eleven adaptation has been met with near-universal praise. Its success has also cleared a path for further explorations into Mandel's literary universe. On tap for Somerville are adaptations of the author's two post-Station Eleven novels: 2020's The Glass Hotel and 2022's The Sea of Tranquility. Though the stories they tell are dissimilar, both keep the same tone as Station Eleven and even share some of the same characters. Somerville is already excited about the possibilities these new adaptations contain. "It's a different world, in that it's New York finance in 2008, but it's also cool because it's our world," he says, meaning the Station Eleven world. "It's our characters and our way of storytelling, and I think we've come up with some great ways of making what happens matter quite a lot to what happens in Station Eleven. So that's what's next."
Much more awaits you in Issue 47 of Backstory Magazine – subscribe today for instant access!
If you'd like to subscribe – feel free to use coupon code: SAVE5 to take $5 off your subscription and get instant access!
All you need to do is click here to subscribe!
There's plenty more to explore in Backstory Magazine issue 47 you can see our table of contents right here.
Thanks as always for spreading the word and your support!