For your reading pleasure, please enjoy this free excerpt from our article interviewing writers/executive producers Danny McBride & John Carcieri/strong> about The Righteous Gemstones from Backstory Magazine's issue 46 – now available to read! This is not the full article – so, if you enjoy what you've read in this free excerpt – we hope you'll join us to read the rest of the article by by subscribing to Backstory Magazine so you can read the rest of the piece and so much more!
TV Streamed
Executive producers Danny McBride and John Carcieri on penning the violent, emotional second season of their HBO series.
By Danny Munso
When Siân Heder's CODA premiered opening night at the 2021 Sundance Film Festival, she couldn't have known the journey that film would take her on, one that is still ongoing over a year later and culminated earlier this month with three Oscar nominations, including one for Adapted Screenplay. It was also nominated for Best Picture and seems to be showing momentum as a possible underdog victory in that category. But even if it comes up short, Heder's indie film has already carved out its own part of history as a groundbreaking piece of cinema for its genuine portrayal of a deaf family.
For maybe the first time, Danny McBride doesn't quite have the right words. McBride has established himself as one of the defining comedic voices of the last 15 years. As both a writer and performer, he and his stable of collaborators have created a tone uniquely their own—a combination of slapstick toilet humor and unflinching heart that imbues every frame of their work. Their latest series — HBO's The Righteous Gemstones — just unfurled its sophomore season and may be the group's best, with a third season greenlighted before all episodes had even aired. McBride and his longtime creative partners — directors Jody Hill and David Gordon Green and writer/producers John Carcieri and Jeff Fradley — met while in the University of North Carolina School of the Arts. They all currently live in Charleston, South Carolina, where their production company, Rough House Pictures, is set up away from the prying eyes of Hollywood. When McBride is asked how his collective nails that singular tone, he pauses. "I don't know if there's something guiding us that lets us know when we're on the right path," he says. "I think we just all have our clocks tuned to each other. We can just tell when we read it if it's something that feels authentic to us. We've been working together so long, and even though everybody's sensibilities are so different, when we do something on our own, we understand the sensibility we create when all of us put our energy together. You can just feel it."
The second season of Gemstones continues the story of pastor Eli Gemstone (John Goodman), who runs the massive mega-church Gemstone Salvation Center, and his three children — Jesse (McBride), Judy (Edi Patterson) and Kelvin (Adam Devine) — who are technically adults but rarely behave in that manner. As the kids all try to gain a little more power at the church — and over one another — they each have to deal with the apparent murder of a journalist that was investigating the family, which happened to coincide with a visit from Junior (Eric Roberts), an old friend of Eli's seedy criminal past. McBride, Carcieri and Fradley always begin their discussions of potential storylines at a writers retreat at the outset of a new season, where ideas are literally just thrown around. And then again, the writing for Gemstones never really stops. "We've all been friends since college so we hang out all the time, and so we're always talking about the show," Carcieri says. This was how they fleshed out the Gemstones' past and how their empire got started at the hands of Eli and the children's mother, Aimee-Leigh (Jennifer Nettles), who passed away before the events of the show take place but is seen often in flashbacks. "So much of the show is about the past, so we're constantly creating that mythology with one another. When we're coming up with interesting ideas for the past, it then informs what we want to do with the characters in the present day. It's a lot of fun in that way because it feels alive and like this story and these people really exist to us."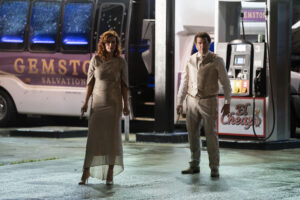 Progress on season two was upended, as most things were, by the COVID pandemic. All nine episodes were penned and ready to shoot when just a few days in the show had to shut down. Though a lot of productions were able to ramp back up later in 2020, that wasn't an option for Gemstones because of Goodman's commitment to his ABC sitcom The Conners, which takes him off the board beginning in September of every year. "As the time started to expand where everyone was locked in our homes, it became apparent there would be no way to shoot a season before we lost John again," McBride says. "So we knew we wouldn't be shooting until the following year [early 2021]. The moment we knew that was the deal, we said, 'All right, we have all this time to look at these scripts. Why don't we go through and look at these things that we would have addressed if we had more time?' When you write something from beginning to end then put the pen down and allow yourself to get out of it for a moment, it starts to become clear what needs to change and what works and what doesn't." The writers opt not to get into specifics on what was removed or changed from the original version of season two because there is a strong likelihood those plot threads would show up in season three, which they've already started crafting. "It definitely came down to whittling down rather than adding new stuff [to the season 2 rewrite]," Carcieri reveals. "Because Gemstones is such an ensemble and there are so many characters, these shows are very jampacked. There's so much material that we have in the hopper, and we want to fit it all. A lot of times, we err on the side of overstuffing it, but when we have time to really examine and analyze, we see the stories that are really important and are able to streamline. [But] there were some major storylines removed, and those stories I'm sure will resurface later because they make sense for the characters."
One storyline unlikely to ever see the light of day was a planned Christmas special McBride and the team penned as a way to tide fans over during the long wait between season one and two. The episode was to pick up immediately after the first-season finale, where Jesse arrived in Haiti to undertake charity work with estranged son Gideon (Skyler Gisondo). Unfortunately, COVID had other ideas and made that impossible to undertake as well. The special was only a possibility at one point because McBride and the team had well before decided there would be a bit of a time jump between the first two seasons, so the audience was never actually going to see what happened with Jesse and Gideon. In fact, McBride has long stated his displeasure for cliffhangers at the end of a season, preferring each to stand on its own. This is a particularly interesting writing decision, because it allows the audience the fun of playing catch-up with the characters. For instance, it's clear in season two's premiere episode — "I Speak in the Tongues of Men and Angels" — that Jesse and Gideon's relationship is in a really solid place, even if a lot of that healing happened off camera.
The writers also took that tack with Jesse and his wife, Amber (Cassidy Freeman), whom we last saw in season one kicking Jesse out of their house. Now they have moved past their tensions and are ready to take on a bigger role at the church as a pair. Ultimately, McBride and the team felt that part of the couple's story didn't need to be seen onscreen. "I think that as we went over those beats, it just felt like beats you didn't need to see," he says. "It felt like let's get past that. It's also part of by not ending season one on some sort of cliffhanger, there's less of a reason to staple this season directly to all those events and loose ends of last season. It felt more interesting to jump time and come in with people advanced and in new situations. I feel like that makes the characters feel like they're alive because stuff has happened even when you weren't watching the show, like they were chilling for the last year just like you were. Then we come in and catch up with them." Carcieri points out that they made sure Amber is her own character with her own agency and not simply there to be Jesse's wife. "When you're writing a show and you have a couple, a lot of times it's easy to fall into a pattern of tracking the success of the couple as a story and making that kind of a whole thing," he says. "Are they on the outs or are they together? It's not the most interesting thing to track over multiple seasons, so it's kind of cool to have Jesse and Amber as this married couple, where they can have problems and things like that but not make every problem that comes across their path something that will threaten their marriage. It's not all about Jesse trying to win her back, and it's not about her approving of his behavior or not approving. The characters are more complex than that and have other things going on. It's a lot more interesting when she's his partner in crime as opposed to a foil. She's a fun character to write."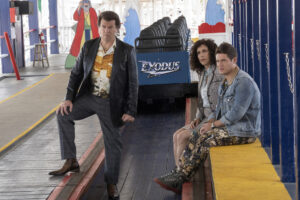 One of the more rewarding elements of season 2 is the revelation of a substantial chunk of Eli's backstory. We discover he was a one-time wrestler in Memphis before becoming muscle who carries out violent deeds for a local promoter. Though none of these things were hinted at in the show's first season, it was much discussed amongst the writers when they were first fleshing out Eli's character. "We've had these ingredients from the beginning even if we didn't have a place for them in the recipe just yet," Carcieri says. "I remember when we were first talking about this show, when Danny had this seed of an idea about this televangelist family, we talked at that point about Memphis wrestling and the Dixie mafia and all that stuff. We didn't quite know how it all fit in at the time but we knew it would be part of this world and that was a tone and vibe that we wanted to present." From the series' inception, McBride notes that they always had the notion of Eli and Aimee-Leigh being at opposite ends of the spectrum in their upbringing. "We always imagined in our minds that Eli was more street-smart and Aimee-Leigh was more moralistically smart," he notes. "That's how they balanced each other out. He had this acumen for business and for tough tactics and she is more in touch with God and leading more from a heartfelt approach. That was a combo that worked for the Gemstones so I think we always had that baked into his character."
More than anything, the tone of Gemstones is what sets it apart, though even the writers find it challenging to calibrate that now and then. "With this show, we'll be pitching shit like a grenade goes off and a guy gets blown into a tree, and then we're also trying to pitch a heartfelt scene between Kelvin and his dad who's in a hospital bed," McBride laughs. "A lot of times we have to throw everything against the wall, and then you can tell in the execution which stuff is a leap too far and which is in line with what you're trying to do." A good example of the Gemstones tone is one of the more crucial scenes in the season, where their Uncle "Baby" Billy (Walton Goggins) faces his adult son Harmon (Macaulay Culkin in a brilliant cameo) after having abandoned him in a mall when he was a child. There are dozens of ways that scene could play out, but they nailed a perfect mix of sweet and stupid: Baby Billy genuinely makes amends but grants Harmon's one request of him — to allow him to punch his dad one time squarely in the face. "With all of Danny's shows, tone is so important," Carcieri says of his partner's oeuvre. "A lot of times, until you see it written out and see how the tone is executed, you don't know if it works. There's a bad way to write a lot of these things that doesn't fit into the Gemstones universe if you attack the tone the wrong way."
As it happens, Carcieri is responsible for the most shocking scene of the season, one where the balance of tone the show attempts to strike was most crucial to the execution. In the finale episode, "I Will Tell of All Your Deeds," the Gemstones are on an island as part of a groundbreaking for a timeshare endeavor in which they're investing. Baby Billy has made the trip along with his very pregnant wife, Tiffany (Valyn Hall). She ends up going into labor while inside a port-a-potty, and Baby Billy has to fish his own newborn son out of the bottom of a toilet via its umbilical cord. It's simultaneously repellant and beautiful — okay, mostly repellant — and it's perfectly Gemstones. Hilariously, it's a callback to a throwaway joke the writers produced in an earlier episode, where Tiffany says she was a "toilet baby" because her mom was so obese she didn't realize she was pregnant until a baby came out while she was going to bathroom. "There was never any plan for that joke to come back around," McBride laughs. "When we were writing the last episode, John came in one morning with these pages of her having a toilet baby and Baby Billy trying to pull it out of the toilet like a bucket in a well. It made us die when we read it, and we all looked around and said, 'This is so absurd. We can't do this, can we?' The more we laughed, we said we had to." Carcieri gives credit to the writing staff for being so attuned to the actors and able to bring emotion to even the most ludicrous scenes. "When you have strong voices like Walton and the way he plays Baby Billy, it makes it a lot easier to imagine these characters in scenes," he says. "We knew Walton was going to kill this scene because he is so powerful dramatically as well as comedically. So we can [give him] an idea that's so absurd [knowing he'll] perform it with so much heart and sincerity." In describing this oddly pivotal scene, Carcieri has inadvertently summed up why the series is so successful: "It's able to pull at your heartstrings even though it's disgusting and weird."
If you'd like to subscribe – feel free to use coupon code: SAVE5 to take $5 off your subscription and get instant access!
All you need to do is click here to subscribe!
There's plenty more to explore in Backstory Magazine issue 46. Thanks as always for spreading the word and your support!