For your reading pleasure, please enjoy this exclusive excerpt from the latest issue of Backstory.
If you enjoy what you read below – we hope you'll join us to read the full version of the article and the rest of the issue by subscribing to Backstory Magazine!
The Actor: Top Gun Maverick – Glen Powell

Glen Powell on scoring a powerhouse role in Tom Cruise's legacy sequel and flying into becoming Hangman.
By Jeff Goldsmith and David Somerset

Spoiler Warning: This excerpt discusses plot points from the  film, so proceed with caution
Top Gun: Maverick might be the latest star vehicle for Tom Cruise, but it also serves as a runway––for the gaggle of younger stars on its roster. And among those stealing scenes even when Cruise is onscreen is Glen Powell as Lt. Jake "Hangman" Seresin, a talented but arrogant pilot who was first in his class at the U.S. Navy fighter pilot academy TOPGUN and never lets anyone forget his skills in the cockpit. He's very much the new iteration of the original Top Gun's "Iceman" (the competitive airman played by Val Kilmer), with Hangman's main flaw in this legacy sequel, according to his copilots, being his habit of leaving wingmen hanging in crucial situations—thus his call sign.
Despite the character being conceived as an antagonist in Maverick, Powell makes the role human and multilayered. He plays a guy who thinks he's rarely wrong about any given situation, and while he may not make friends easily, he's almost always right. In real life, Powell, a good-natured Austin, Texas, native, has no problem making pals, and he's been achieving his goals on film since Robert Rodriguez cast him as "Long-Fingered Boy" in 2003's Spy Kids 3: Game Over. He forged a career honing his craft in small roles as well as some stunt work before jumping to a new level as part of Richard Linklater's college-set comedy Everybody Wants Some!! Since then, his star has been on the rise, including a role as astronaut John Glenn in 2016 Oscar Best Picture nominee Hidden Figures. But while no one in his family had an entertainment industry connection, everyone certainly was entertaining. "I come from a family where no one can be a wallflower," Powell says. "We're a loud, rowdy group where we would put on plays and had to tell jokes in front of the family. My aunt's a magician. One of the big things we would do on the weekends together as a family is go sit in the movies all day. It would bring our family together. We talked about movies—the performances and what scenes were our favorites. I love talking about movies, and I love watching movies. It's really kind of how I bond with people. It's the easiest way for me to find common ground with a stranger."
A fan of movies such as the original Top Gun, Raiders of the Lost Ark and Jurassic Park, Powell pondered performing as a potential career early on. "I asked my parents if I could take an acting class, and there was sort of a debate between my mom and dad about what child actors can become: 'I don't know if this is the best path, but just let him do it if he wants to do it and just enjoy it.' I don't think anybody thought this was gonna be a thing beyond just me taking acting classes and having fun. Then I auditioned for this musical called The Music Man when I was 10 and wound up getting the understudy for one of the lead roles. I really loved the ensemble team-sport nature of it, so then I just started doing theater."
 Screen roles came young Powell's way as tax initiatives helped grow the Texas film industry. But there was one key job––and one big inspiration––that really kicked things up a notch. "I auditioned for a movie my senior year of high school called The Great Debaters that Denzel Washington directed. And Denzel was the one who said, 'You should give this a shot. Not just for fun but as a career.' He goes, 'There's no certainties in this business, but why not give it a shot? It's the time to do it.' I really don't think there had been a moment that I would've considered [going for] it, even though it was the thing I loved most in the world—just because the odds are stacked against you in a way that's not fair. So I'm really grateful for Denzel for really giving me that shove in the right direction."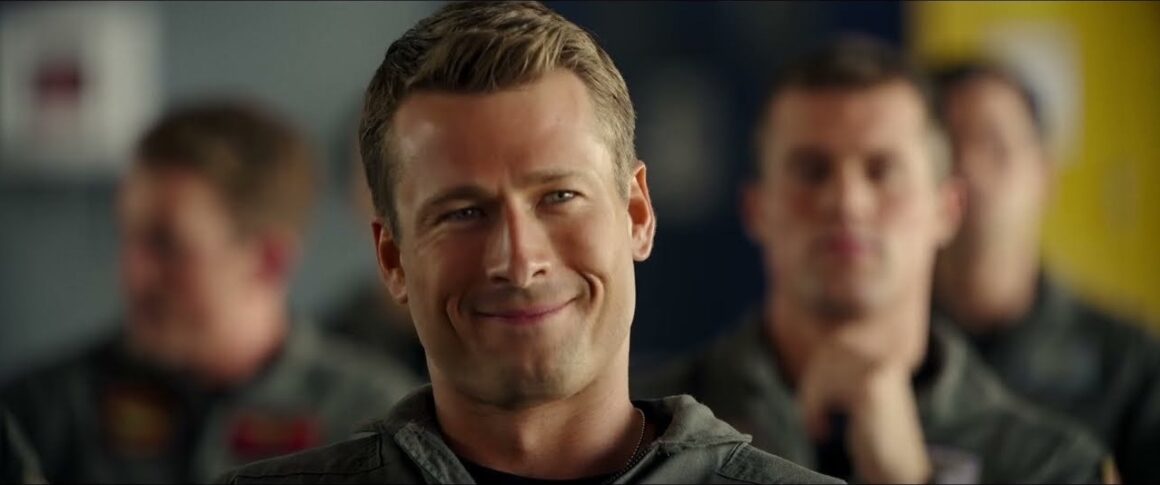 Which brings us back to Top Gun's high-flying sequel, which would make any up-and-coming actor salivate. The movie offered opportunity and depth in all its parts, but, wildly, Hangman wasn't the role for which Powell went up. "I originally auditioned for Miles Teller's role, which is Rooster, the son of Goose [Anthony Edwards]," the actor says. "In terms of development of a character and trying to figure out what makes that character tick, I originally put all my thought into Rooster. Then when I didn't get that role, Tom, Joe [director Kosinski] and [co-writer/producer] Chris McQuarrie wanted to talk to me about this other role, which was originally called Slayer. He was a very different character on the page." In preparing for the Rooster tryout, the actor dove in, even chatting up fighter pilots in San Diego to understand their job and personalities. "My goal was to be the most convincing version of that character when I walked in the room and met with Tom. I think it's the first time in my whole life I felt completely ready for a character, walked in the door to meet with the guy and didn't get it."
And yet when the filmmakers brought up the other part, Powell at first turned it down. "I didn't see a version in which I could breathe life into the character in a way that would be satisfying for an audience or satisfying for me," he says. "It wasn't until I sat down with Tom and he sort of talked about his process, which starts with the script. He's like, 'The script is for other people. The script is for the people at the studio. The script is for people trying to build out this world in other ways. That is not what you're gonna say, that's not how you're gonna say it. This is not the essence of the character—this is where we start. We're gonna be working with [co-screenwriter] Ehren Kruger and Chris McQuarrie, and we're gonna be building this character and really taking it to a place you can't even see right now.' And for me as an actor—up until now, I've never developed a movie on set. Right? You read the script, you see what's there, you shoot the movie that's on the page, and so this process was sort of a leap of faith."
Without a doubt Powell made the right choice to trust Cruise and the role was rebuilt from the ground up, including his character's call sign. "We were in a briefing with the head of TOPGUN in [its homebase of] Fallon, Nevada, and they were giving us an overview of what it is to be a naval aviator, in particular what makes a Navy call sign compared with an Air Force call sign. They were telling us, 'A Navy call sign is Huggie, Peanut, Taz, blah, blah, blah—fun nicknames based on something silly, an embarrassing story usually of something that people discovered about you or a time you screwed up. The Air Force call signs are stuff like Laser, Spine Ripper, Slayer…' They literally used my call sign in the example of what an Air Force call sign was!" Based on that, the actor went to McQuarrie and Kosinski to air his concerns that "Slayer" didn't work as a Navy moniker. "That's going to be indicative of the character and how the audience will feel about the character, but it can't be something that doesn't authentically represent the Navy. And so it then became the quest of finding a new call sign. There's a group thread between Joe, McQ and I of so many possibilities." Powell's research time with pilots also helped in the actual performance. "What I found very compelling was that a lot of pilots are very different on the ground than they are up in the air. There's sort of a Bruce Wayne/Batman thing going on. To define a character and who they are and how they act on the ground versus who they are in the air was also its own special skill."
We hope you enjoyed this excerpt!
If you'd like to read the rest of the article (another full 800 words) we hope you'll support independent film journalism and subscribe to Backstory Magazine!
Top Gun: Maverick is currently in theaters
If you'd like to subscribe – feel free to use coupon code: SAVE5 to take $5 off your subscription and get instant access!
All you need to do is click here to subscribe!
There's plenty more to explore in Backstory Magazine issue 47 you can see our table of contents right here.
Thanks as always for spreading the word and your support!