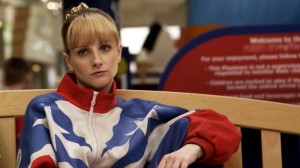 It's nearing a decade since The Foot Fist Way debuted at Sundance and launched the career of Danny McBride as he and co-writers Jody Hill (also directed) and Ben Best flipped the world of martial arts instruction on its head and tonight's premiere of The Bronze in the US Dramatic category certainly has echoes of Fist as it finds solid footing in the world of gymnastics.
Tonally, the comedies mirror each other as Bronze co-writer and star Melissa Rauch comes off as a trash talking, over the top hyper gymnast who is always adorned in her warm up gear despite the fact that due to an injury, she's a decade past her prime.
Melissa and husband Winston's cutting and raunchy dialogue often evokes laughs, but occasionally comes off as redundant or carries on a hair longer than the scene necessitates. It's a small price to pay when considering Melissa's sheer charisma and ability to fully engage in her comedic choices, which she does with the energy and enthusiasm reminiscent of Amy Sedaris' talents.
Structurally, again similar to Foot Fist, the audience quickly meets protagonist Hope at her lowest, allowing for the character to only journey in one direction–up. And as Hope warms up, the audience easily warms up with her.
The world of gymnastics proves to be fertile ground for humor, even raunchy humor especially in a show stopper of a sex scene that harkens to levels of perverted absurdity that only Team America had previously dared with its own puppet fornication.
What wins for The Bronze is the utilization of the classic formula that beneath a wildly negative and at times hateful veneer lurks a vulnerable, ultra likable woman who simply needs to grow up a little.
Produced by the Duplass Brothers, who again show a strong eye for legit up and coming comedy talent, The Bronze will likely connect with indie audiences later this year as Rauch's talents are simply too hilarious to be ignored.
Final Score: Silver Medal (better than Bronze!)
-Jeff Goldsmith
Here's what the Sundance Guide had to say about the film:
In 2004, Hope Ann Greggory became an American hero after winning the bronze medal for the women's gymnastics team. Today, she's living in her father's basement in her small hometown—washed up, largely forgotten, and embittered. Stuck in her past glory, Hope is forced to reassess her life when a promising young gymnast who idolizes her threatens her local celebrity status. Will she mentor the adoring, hopeful protégé, take her down, or both?
Director Bryan Buckley, whose short film Krug played at the 2004 Sundance Film Festival, returns with his hilariously raunchy feature-film debut. Teaming with co-writer and lead actor of the film Melissa Rauch, they create a lovably loathsome character who makes Tonya Harding look like Grace Kelly. Featuring a star-making performance by Rauch, unforgettable scenes, and many quotable lines, The Bronze is comedy gold. —T.G.
Director: Bryan Buckley
Screenwriter: Melissa Rauch / Winston Rauch