Beyond publishing an entire magazine – we also publish stories exclusively to the Backstory blog and hope you'll continue to check back for more articles and reviews.

We recently published our huge issue #45, our winter issue with a Dune cover and you can see our ever-changing table of contents right here. We say ever changing because we often continue to add new articles into the magazine after we publish – which is the beauty of a digital magazine.

If you've never read Backstory Magazine before you can test-drive us by reading our free issue!

If you dig what we do, we hope you'll consider becoming a subscriber to Backstory and get access to our new content and our archive by subscribing right here.

Thanks for considering supporting independent film journalism and spreading the word and we hope you enjoy the article!

Current Cinema
The Kings Man
Co-writer Karl Gajdusek on the art of collaborating, a colossal history lesson and the birth of a revered spy service.
By David Somerset

Spoiler Alert: Spoilers Within

In 2014, Matthew Vaughn riffed on Bond and action movies for Kingsman: The Secret Service, an adaption of Mark Millar and Dave Gibbons' comics run that made its mark with verve, violence, wit and cheeky, if sometimes rude, style. The story followed Gary "Eggsy" Unwin (Taron Egerton), a rough-and-ready type recruited for a posh, ultra-undercover boutique spy operation, mentored by Colin Firth's gentlemanly but kickass) Harry Hart. Vaughn followed that up with 2017's Kingsman: The Golden Circle, which saw similar success at the box office. With those two under his belt, the co-writer/director conceived the ambitious plan to create a linked narrative of Kingsman stories spread across film and TV. That idea got hit with the one-two punch of Disney snapping up Twentieth Century Fox, which had produced the previous films, and the COVID-19 pandemic ensnaring the world. Undeterred, Vaughn pivoted, instead developing both a third outing for Harry and Co. and a prequel set decades before Eggsy ever joined the ranks.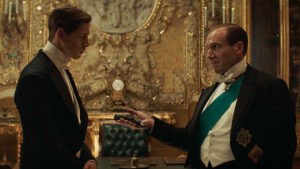 While he'd written the first two movies with Jane Goldman—with whom he had a solid history, including penning 2010's Kick-Ass—Vaughn decided to bring in some new blood for the prequel. Writer Karl Gajdusek, a veteran of TV work on Stranger Things and Dead Like Me and the big-screen likes of Oblivion and The Last Days of American Crime, had already been taking meetings with him because of an original spec screenplay. "I wrote a script called Courage, which I'd set up at Fox. I was working with that, and somehow it got into Matthew's orbit. He liked it enough that I planned a trip out to his place outside of London to meet and talk about that. I was there a few days and of course said how much I loved the Kingsman movies, which was not blowing smoke. Not only do I love those movies, but my sons love those movies." As their talks on Courage continued, Vaughn started to clue Gajdusek in on his Kingsman plans. They started to map out the aforementioned multiplatform idea, and the switch was quick to just the prequel. The King's Man is set as World War I breaks out, charting the mission of wealthy soldier turned philanthropist Orlando Oxford (Ralph Fiennes), who is spurred back into action when he learns of a nefarious plot to threaten the British Empire and fan the flames of conflict. But Oxford also has a personal reason for working behind the scenes to end the dissension: His son, Conrad (Harris Dickinson), is eager to do his duty, and after losing his wife years before, Oxford will do everything he can to protect his progeny. "I think what was really important to [Vaughn] was fathers and sons and that period of World War I and what it meant about the people who were led into slaughter and the people who weren't and the people who created that debacle," says Gajdusek. "And [then there was] the message of what it meant to form an organization like that out of the ashes of that political nightmare."

Even though Vaughn and Gajdusek clearly got on, the director decided to try something before committing to a new co-writing team. "I've done a fair amount of collaborating over the years and it's always a little different, but essentially if you can't rewrite each other, it doesn't work," Gajdusek says. "One of my best friends is a very talented, very accomplished writer. We started to collaborate, and within five minutes we were butting heads about something and didn't find a way through. So after Matthew and I decided to do this, we did this little test, which was bizarre. I think we both were a little embarrassed by it because it's artificial, but we both said, 'Okay, we know this scene's gonna be in the movie. Let's both write it, and then let's talk—let's see what happens. But let's be fair—I'm auditioning for him, he's not auditioning for me, right? But [we gave it a try and] both wrote the same scene." That scene, which doesn't appear in the movie, takes place before the opening, in which Oxford, his wife, Emily (Alexandra Maria Lara), and a much younger Conrad (Alexander Shaw) visit a concentration camp during the Boer War to bring much needed medical supplies). It's just a small moment between the family members as they travel to the camp in carriages, but the screenwriting back-and-forth worked for Vaughn, as he and Gajdusek joined forces for the rest of the screenplay. And while their writing routines weren't identical, they synched nicely. For his part, Gajdusek had always eschewed the idea of outlines ever since he got his start as a playwright, as he prefers to see where the characters take him. But for his film work, especially something on the scale of this project, he recognizes their importance. "Because you're both trying to be deeply empathetic and breathe life and love into characters, and you're trying to build a very advanced aircraft engine—if you don't have the blueprint, it's all going to fall apart."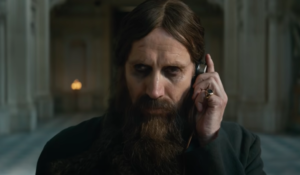 Vaughn came up with the film's basic concept as well as the idea for the villain, who has his own reasons for plotting against Britain and igniting a world war. But as with some of the more famous Bond villains––and in keeping with the likes of The Secret Service's Valentine (Samuel L. Jackson) and The Golden Circle's Poppy (Julianne Moore)––he has quirks aplenty, including using a giant, remote barn as his headquarters and raising goats, hence his title, The Shepherd (Matthew Goode). "It is delightful," Gajdusek says of his co-writer's instince. "It's definitely Matthew, but if I'm remembering correctly, it wasn't from the beginning. I believe there was a time while we were working when Matthew was like, 'Goats.' And I was like, 'All right, goats.' " The movie's historical context also requires a significant setup, which can be challenging when you're trying to be entertaining. "That is the single hardest thing about stuff like this. It is what you live or die on," Gajdusek says. "It's explaining without explaining, especially when it's actual history and you've gotta get it right, because no one needs to go to a Kingsman movie to be taught. That's the number one challenge—we all know the scene with the map. And sometimes it's awesome. It's not the end of the world. In Indiana Jones, that little plane flies around the globe, and we're not bored—we think it's cool. You just have to do it right, make sure it's in the context of something interesting. You can't eschew it. You just have to dive into it and figure it out." The real joy for the writer came in the gifts from history itself, such as the fact that the three main squabbling world leaders at the time––England's King George, Germany's Kaiser Wilhelm and Russia's Tsar Nicholas II––were all related. And The King's Man's stroke of casting genius was to have Tom Hollander play all three.

There was also fun to be had with the chronology. "I knew a lot about the politics and a fair amount of World War I to begin with," Gajdusek says. "And then I dug in quite a lot, because I didn't know the history behind the history. I knew the players, but I didn't know them that well so I started to learn. And for me, there's a rule we tried to stick to, which is prove it didn't happen. If someone writes a thing and, for example, Hitler goes on to live to his 60s, I'm thinking, Well, that didn't happen. I'm sure people will find the holes in this movie, but I think we worked really hard for us to say, Yeah, it's a fantastical story—prove it isn't true." Yet for all the new geopolitical spins, The King's Man doesn't shy away from the bloody, muddy horror of war, especially a sequence set in the trenches. It's here Conrad gets the chance to serve his country and ends up paying the ultimate price. "I'm very, very proud of this movie's statements about war and violence. This is not a pacifist movie. The message of this movie is not that you should not fight, but it is a movie that's harshly critical of bureaucrats and royals putting young men—or young women if it was contemporary—into trenches. And trying to mix that sentiment along with emotion and the truth of that with the rollicking sort of punk-rock thing that is Kingsman is a big order. When you do it wrong, you feel like you're in two movies." Take, for example, the Conrad's funeral scene. It's a genuinely sad affair that features a reading of Wilfred Owen's poem 'Dulce et Decorum Est,' a caustic chronicle of men in battle. "Once we decided it would be lovely to use it, how to put it in the film was incredibly difficult. You're juggling so many different tones and emotions there."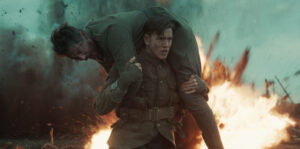 Such weighty material is not new in the Kingsman universe, well known for its tackling of death, conflict, religion and politics, yet it's usually all wrapped up in the outrageous action and envelope-pushing comedy of the franchise. The King's Man keeps its upper lip a little stiffer, but there's still room for madness, here in the shape of Rhys Ifans' lunatic Rasputin, charged by the film's main villain, who famously influences the Russian tsar. When Oxford and his loyal aides Shola (Djimon Hounsou) and Polly (Gemma Arterton) confront the mad monk, the result is a wild scene where trousers are removed (literally) amid a chaotic fight in which our heroes attempt to off Rasputin more than once. "Rasputin is a godsend for us, and so is Rhys," Gajdusek says. "That actor and that character and those scenes are a bridge structurally in the film that does something interesting to the audience and lets them know it's going to be okay—this is gonna be awesome. And it's very interesting how you communicate to an audience when you're aware of their needs. We know you're Kingsman fans—we're not gonna feed you porridge."

Not everything Vaughn and Gajdusek wrote showed up in the final film, including a scene with the world-famous female spy who is on the villain's side. "Mata Hari's a character I love, and I love the actress who plays her (Valerie Pachner). We for a while had it where she was sent to bring Lenin into the story, and the way she did it was a scene I always loved, as it was sexy and irreverent. But it wasn't necessary in the long run, and you just have to accept it." Hari is just one example of The King's Man looking to balance out some of the sex, humor and gender politics of the franchise, which began with anal sex jokes in The Secret Service and have been seen as in bad taste, particularly with The Golden Circle's festival scenes, where Eggsy is trying to implant a tracker on a woman by sleeping with her. With Arterton's Polly, there's another capable female character, this one on the side of good but far from what reductive types would label a Mary Sue. "There's a scene in the film, the first time you understand Polly's relationship to Oxford—it's somewhat of a surprise," Gajdusek says of the scene where Oxford returns home early in the story and Polly berates him for his standoffish, haughty attitude to life and the other staff. "It's just where we understand how they really are together, and it's lovely and all the power dynamics shift really fast in that scene. It's very important to me and to Matthew, too. It defines a new kind of female energy in the franchise, I hope. She's awesome. I worry sometimes when you have a character like that who's so put together and strong that people will be, Oh, the female character is just impervious. She just can do anything. That's always a mistake, but I don't think the character's that. I think that character shows her edges."

As the franchise prequel, The King's Man ends with Oxford setting up the Kingsman organization and gathering the initial core team. And there are definite hints that Vaughn and Gajdusek intend to revisit the story if circumstances allow. "We'll have to see," the writer says cautiously. "It's not to say we haven't talked about it." But this is Hollywood, and if it fares well with fans, the good news is there are a lot of years to cover between 1918 and 2014.

If you'd like to subscribe – feel free to use coupon code: SAVE5 to take $5 off your subscription and get instant access!

All you need to do is click here to subscribe!

There's plenty more to explore in Backstory Magazine issue 45 you can see our table of contents.

Thanks as always for spreading the word and your support!