For your reading pleasure, please enjoy this exclusive excerpt from Issue 43 of Backstory. If you enjoy what you read below – we hope you'll join us to read the rest of the issue by buying Issue 43 as a single issue or subscribing to Backstory Magazine!
Director Enrico Casarosa, producer Andrea Warren and writers Jesse Andrews and Mike Jones go ocean deep for Pixar's latest.
By Danny Munso
Spoiler warning: This article goes in-depth into the ending of the film, so tread carefully.
He didn't have the exact story yet, but Enrico Casarosa was envisioning a film about friendship. Casarosa has worn a number of hats at Pixar over his 15-year career at the studio, including director of the Oscar-nominated short La Luna and a longtime member of the company's senior creative team, and was about to add another: feature film director. When it came time for him to pitch the film—Pixar usually likes its directors to deliver three ideas simultaneously before the best is selected—he was noodling with a story set on the Italian Riviera, a place visited by the Genoa-born Casarosa in his youth. "I was playing with the idea that there could be more than meets the eye to a town on the Riviera," he says. "I've always been fascinated by folklore and creatures that can appear human. Then I put that with this idea of friendship based on my relationship with my best friend. My experience growing up there made me want to make a movie about kids being kids and going on an adventure. The friendships of our youths and the ones that challenge us help us grow up and figure out our identity." Casarosa married that with the idea that the boys themselves were the creatures from folklore he loved, an apt metaphor for how kids of that age can often feel. "I thought if they had this huge secret that they are sea monsters. That felt true to feeling out of place and wanting to fit in, and that was the kernel of the idea I pitched."
Casarosa wasn't alone on his story-shaping journey. First aboard was producer Andrea Warren — a co-producer on Cars 3 and producer of the 2014 short Lava — who played an integral role in helping Casarosa find his vision. "I sort of think of the story early on as a swamp," she says. "Doesn't have a shape yet, just these pieces. What I'm looking for and what I'm trying to help create are these places and moments where we build scaffolding to help reinforce and recognize that this is important to the story. Ultimately it's Enrico's job to decide what pieces stay in or not, but it's really about protecting that process and letting it be a little messy." Like Casarosa, Warren is a Pixar stalwart, protective of the laborious process the studio uses to make its films and knowing just how high the expectations are. "We have our own high bar of what we want out of a film. We want to rise to that, so I'm trying to protect that process because it can get messy. Even we forget that sometimes."
In December 2017, Jesse Andrews was brought on board to work with Casarosa as the film's first screenwriter. Andrews, who had penned the 2015 adaptation of his own novel, Me and Earl and the Dying Girl, which turned into an acclaimed indie film that won the Grand Jury and Audience awards at Sundance that year, immediately connected with Casarosa's nascent ideas. "It was different at the time, but [the movie] was still essentially a friendship between this shy, cautious kid and a kid who was more of a risk taker," Andrews recalls. "There was a lot of finding to do character wise and story wise." For Casarosa, the connection was mutual. "I absolutely fell in love with Jesse and his writing," the director says of Andrews. "Me and Earl and the Dying Girl stood out, but I also felt his books had this amazing sense of humor. I love his unusual and unique take. There's an X factor with Jesse. His writing can be strange, interesting and full of funny ideas, but there's also something a bit poetic about it."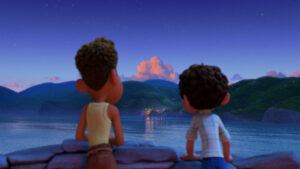 When Casarosa described the childhood friendship that helped inspire his idea, Andrews recalled his own. "In high school I was this very shy, matchstick-shaped kid who was bad at sports, and there was this other kid who was a big hockey player who listened to Metallica," he says. "We were playing pickup football, and within five seconds he tackles me and I'm on the ground crying. By the end of the day we were best friends for years and years. But I left Pittsburgh and he didn't." And that aspect in particular struck Andrews. "I asked Enrico about his friendship and said, 'So, do you guys still talk all the time?' He said, 'No, not that often.' I thought that was interesting — that goodbye wasn't in the story. This kind of friendship is extremely important in your life, but it's also this window in time. It's not that you'll never talk again, but you clearly go in very different directions and you enabled each other to do that. That wasn't in the movie when I joined, but I [knew] if we could capture that, we're capturing something profound about friendship. You become friends with someone who is not like you, and you have this effect on each other. You unlock each other in a way."
Luca follows the title character (voiced by Jacob Tremblay) as he befriends fellow sea monster Alberto (Jack Dylan Grazer), who eventually brings Luca out of his shell, even convincing him to go on land, where their species can temporarily turn into human forms (unless they get wet, of course). As the two brave the nearby town of Portorosso, they befriend Giulia (Emma Berman), who recruits the boys to help her win a local bicycle race called the Portorosso Cup. Luca and Alberto agree, with the goal of spending their winnings on a Vespa so they can explore the world. However as the secret of their true identity is in danger of being revealed, the boys' friendship is tested to its breaking point.
The creative team faced a unique challenge in capturing the introverted Luca. After trying to solve the issue with dialogue, a visual solution presented itself: Throughout the film, the audience sees Luca's fantastic thoughts onscreen in several dream sequences. "That was a lesson for me how sometimes as a writer what you have to sometimes do is not pitch writing," Andrews says. "When you go back and watch La Luna, that is as untalky a short as can be. That gorgeous tone and fairy-tale quality shine through unimpeded by verbosity. When you take some writing off the table, a director will default to the thing they do really well." He recalls Casarosa sketching Luca dreaming about soaring with Alberto on their Vespa over water, and that got the ball rolling to have the audience go into Luca's head every now and then. And sure enough, those sequences, which allow Casarosa and his team to have a visual field day, are some of the most visually arresting in the film. "When you're a writer, you can sometimes make the mistake of feeling like dialogue will solve everything. But it's just one tool in a really big toolbox with filmmaking, and just because the other tools are in other peoples' hands doesn't mean you shouldn't trust them."
There is a bump in the making of many Pixar films where the story hits a snag and a new voice is brought into the creative process. That voice on Luca was Mike Jones, who had just finished as the co-writer of Soul. "What happens when you're on this odyssey is you're on this ship and sometimes you get a bad storm and the story comes out in pieces," Casarosa says. "There was a moment where we needed that push into the next port. Mike's specialty is structure, and that was very helpful to us." Having spent years as Pixar's senior story and creative artist, Jones understood his role in coming aboard better than anyone. "What happens with all of these films — and this happened to us on Soul — is because they take so long to make, you start to get overwhelmed with all the roads you've gone down exploring the story," Jones says. "So they brought me in to help them simplify it in a way and identify what the main storyline was and just keep building off that. They had all this time to find all these wonderful things, and I think they needed not just me but other people to say, 'We love this, this and this, and here's how maybe you can thread them along and how you don't need all this other stuff.'"
Since Soul and Luca were being made concurrently, Jones and Andrews would often share scripts to get the other's insight and struck up a friendship with one another. "Since I'm the only staff writer at Pixar, I feel it's part of my duty to welcome all the writers and tell them what it's like to write here," Jones says. "Because our projects were so linked, we became pretty close even before they asked me to come on to Luca. We just have very similar senses of humor. It was my respect for Jesse's work that made that partnership connect. It became a great working relationship." Andrews, likewise, welcomed Jones' contributions. "I already trusted him creatively and artistically," he says. "I knew he was going to bring a lot of that Pixar story brain. He has a really good grasp of the engineering of a story but not at the expense of the emotion. He does that as well as any writer I've ever met. He was also always a cheerleader for the stuff I had been doing early on." From her producer's vantage point, Warren was able to see how the pair meshed from the git-go. "You never know how it's going to mix, but they formed their own friendship, and it was a really fun thing to watch," she notes. "They became two peas in a pod. They really bonded, and their own experience of friendship as writers became a part of the story they were writing about friendship. And they were fun to work with because they brought a lot of joy and humor to the film."
The standout scene in Luca — and one of the best Pixar scenes, period — comes at the end of the film's second act, when a frustrated Alberto, fed up with Luca's burgeoning friendship with Giulia and frightened by Luca's desire to go to her school and possibly leave him behind, reveals himself to be a sea monster. His intention is for Luca to do the same, but instead his friend turns on him and cries out, 'Sea monster!" It's a major betrayal and a scene that greatly evolved in the course of the writing. There was an idea early on that Alberto's anger turned him into a giant Kraken creature that threatens the town. "In that early version, Luca swims out and saves him from the town that wants to kill him," Jones says. "That version didn't work, but the idea of a selfless sacrifice one boy had for the other—that idea worked. But we didn't quite know how to get there for a long time." Jones suggested that perhaps in an effort to show Giulia who he and Luca truly were, Alberto could force Luca into the ocean, where it's revealed that they're both really sea monsters. "It was Jesse who said Alberto should show her and then Luca does this double-cross by calling him a sea monster. That took me a beat to digest, and then I said, 'Yes, that's the way to do it.' It's a double-double-cross. Alberto is going to out him to his friend, but it causes Luca to say, 'You are the other.' It's horrific and I loved it. Once we landed on that moment, we could finally earn the third act."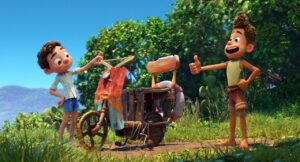 Andrews points out the scene can serve as a tip for aspiring writers. Though the initial version of the scene where both were revealed as sea monsters was solid independent of everything else, it created problems for the overall story. "Everything downstream of that scene didn't work at all," he says. "Luca is so angry at Alberto, and Luca had no agency in that decision at all. It just didn't work emotionally. We needed Luca to do the wrong thing by Alberto. Then the whole third act really worked." The creative team was understandably concerned that Luca's betrayal could impact that audience's love for the character. "There was a little doubt because you hopefully feel that knife in the heart," Casarosa says. "There was a lot of conversation about, 'Are we going to get the audience back?' But that's the point. It was on us to get him to make it up and give him something to fight for. Early versions of the Portorosso Cup ending had the boys making up after Luca's betrayal when it's revealed that Alberto has been abandoned by his father. They do the race together and win as their true identities are revealed to the town. It was the film's story supervisor, John Hoffman, who suggested Alberto shouldn't be so quick to forgive Luca. "I feel like we all make mistakes, and sometimes they're bad mistakes," Jones says. "I have to believe as human beings that we're all redeemable from those mistakes. So once Luca does that, how do we redeem him? How does he find redemption after that? He finds this idea that he is going to win this race all by himself for his friend. I loved that. It ended up being such a more emotional build to the third act so we embraced it."
As the newest participant in Pixar's intensive storytelling process, Andrews was blown away by his experience and even hopes to plant roots in the Bay Area, where the studio is located. "I see simultaneously why Pixar's batting average is so high and also why no one else does it this way," he says. "It's high because of the time and patience they put into these movies. You put the movie up 11 times and rework it. You can only do that with certain kinds of people. You need really sharp critical minds in the room because a big movie is at stake and big artistic claims are being made. At the same time, you can't have huge egos and you must have a ton of generosity." He was also witness to a time of change for the company as it readies a slate of films made by younger diverse voices, beginning with next year's Turning Red, from Chinese-born Canadian Domee Shi, an Oscar winner for the animated short Bao. "Pixar is about to have a number of surprising and fresh voices," Andrews adds. "There's a crop of great filmmakers coming up in the studio, and it's an exciting time. It's a really special place."
Luca is streaming now exclusively on Disney+
You can use coupon code: SAVE5 to take $5 off your subscription and get instant access!
There's plenty more to explore in Backstory Magazine issue 43 and we would love to have you join us as a subscriber. Thanks for your support and stay safe and healthy!
To see all the other amazing articles in the magazine, view our continually growing issue #43 Table of Contents as we continue building our amazing new issue 43!