For your reading pleasure, please enjoy this exclusive free excerpt from the latest issue of Backstory.
If you enjoy what you read below – we hope you'll join us to read the full version of the article and the rest of the issue by subscribing to Backstory Magazine!
Emmy Watch: What We Do in the Shadows – Paul Simms

Showrunner Paul Simms sinks his teeth into a healthy comedy vein.
By Jeff Goldsmith and David Somerset

Spoiler Warning: This excerpt discusses plot points from Season 3.
Paul Simms had his first encounter with the vampire roommates of the big screen's What We Do in the Shadows in 2014, when co-writers/directors/stars Taika Waititi and Jemaine Clement brought the acclaimed horror comedy to New York for a small screening after its debut at that year's Sundance Film Festival. "I loved it," says Simms, who had worked with both creators on folk-rock comedy TV series Flight of the Conchords. "Then Jemaine said, 'We're thinking about making it into a TV show.' I remember saying, 'Oh, that's gonna be great. And you and Taika are gonna be in it?' and he replied, 'No, that's the thing—we don't wanna be in it.' " Simms initially had concerns about a TV version working without the film's leads, a challenge he had to overcome when he was hired to run it. The result speaks for itself, as the FX/Hulu-based sitcom has become one of the most reliable comedies on TV and received multiple Emmy and WGA nominations for its writing.
Simms' own career would probably confound his teachers, as they apparently perceived no writing talent back in the day. "I definitely didn't study TV writing [in college]—I was an English major," he says. "And I don't think I learned anything about writing being an English major! I even applied to do a creative writing thesis and they said I was not up to the task and didn't feel I had the maturity to pull it off. So maybe this entire career has been my revenge!" After getting his start writing for the satirical magazine Spy, Simms moved to TV for possibly one of the greatest training grounds of the time: Late Night with David Letterman. Learning of a job opening because one of the writers was leaving, he submitted a "packet" of potential material, albeit in much less formal fashion than writers do who are looking to break in today. It was quite literally just a batch of ideas he thought could work on the show, but he got the gig. He recalls one particularly excruciating moment when he had to appear in a "Viewers' Questions" segment, playing an audience member who is clearly injured and asking Dave for directions to the nearest hospital as blood starts to pool on his shirt. There was just one tiny hitch in that otherwise solid bit. "The studio was so cold the blood congealed, and it wasn't coming through the shirt. So it was me—who has no ability to perform, improvise or ad-lib—talking to Dave, and Dave's giving his answer. And I'm just wondering, When is this blood gonna actually start pouring out to make the joke work? It felt like death."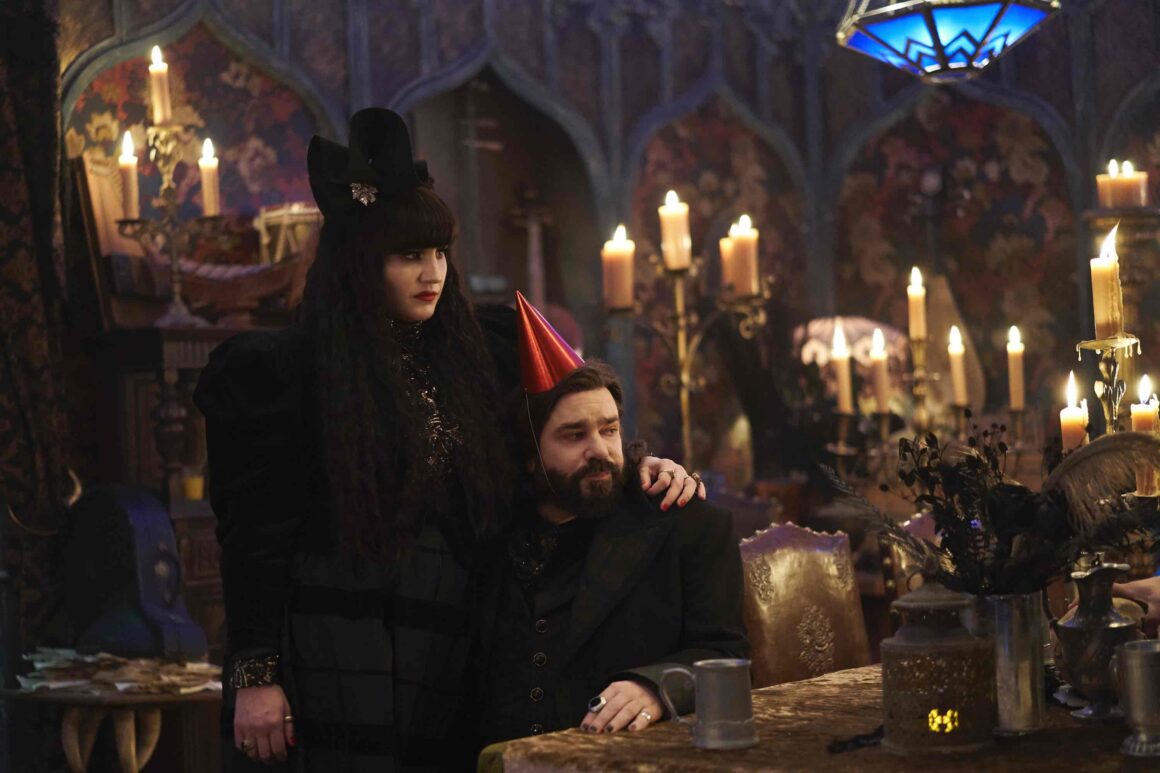 Despite that one mortifying not-so-mortal moment, the experiences with Letterman led him to the perfect next gig: The Larry Sanders Show, which offered spot-on satires of the behind-the-scenes madness at a late-night talk show. A big fan of It's Garry Shandling's Show, Simms was thrilled to land a job on the legendary comedian's next project after reading one of the Larry Sanders scripts. "I just loved it, partially because it was really about the life I'd been living for the previous two years," he says. "And also because there was something about it. People were talking the way they really do in an office—bitching and complaining. When I first read that script, I thought, Are you actually allowed to do this?" Turns out they were, and after working on the show for two years, he moved on to create NewsRadio, another much loved series actually set at an entertainment workplace. Before long, he was working with what would become the Shadows team as a writer, consulting producer and director for the two-year run of Conchords, where Clement was a co-creator, writer and star and Waititi a director. Simms has also staffed on series including Boardwalk Empire, Girls and Atlanta, the latter of which he continues to produce.
When Waititi and Clement recruited him for the TV take on What We Do in the Shadows, Simms helped develop the idea that would take it beyond the film. It's still a mockumentary about members of the fang club sharing a house and comically dealing with the likes of undead life, human encounters and local vampiric council meetings, but the concept is transplanted from New Zealand to Staten Island (though still set in the same universe, as Waititi and Clements' vamps from the movie have shown up in the series). The main characters are former warrior-turned-worrier Nandor (Kayvan Novak); debauched English vamp Laszlo Cravensworth (Matt Berry); Laszlo's wife, frustrated former Greek peasant Nadja (Natasia Demetriou), who first "turned" him; and Colin Robinson (Mark Proksch) an "energy vampire" who, unlike his sun-hating, blood-drinking associates, thrives on draining humans' lifeforce by being endlessly, enthusiastically boring. Simms and the creators were set on finding a cast who could match––rather than replicate––the movie's comedic chemistry, and for the most part that was a relatively straightforward process. "Laszlo was written for Matt," Simms says. "Kayvan and Natasia's auditions were almost all improv based around the idea for their characters. They were great. Colin Robinson…as soon as I saw that character, I thought of Mark from having seen him in Tim Heidecker's [spoof web series] On Cinema at the Cinema."
One character, though—Guillermo de la Cruz, Nandor's long-suffering vampire wannabe and human caretaker (known as a familiar)—took some finding. "For Guillermo, we went in a lot of different directions," Simms says. "Early on, a lot of the actors we were looking at were much older, going for the joke that this guy had spent his whole life waiting to be made a vampire. And it wasn't until we saw Harvey [Guillén] do it that we said, 'A younger person is better, because at least it's not incredibly sad. He hasn't wasted his whole life yet.' Also, there's a sweetness to the way Harvey plays it that keeps it from being too sad that this guy has spent 10 years waiting to be turned." In addition to the main cast, they locked in a deep bench of supporting characters played by the likes of Kristen Schaal, Anthony Atamanuik and Veronika Slowikowska, as well as some great guests, including Mark Hamill and, in season three, Donal Logue, who appears as himself––but a vampire. Then Simms and his writing team got to work on creating comedic situations for the various vampires, such as tussling with local werewolves—a carryover from the movie's storyline—and tangles with the Vampiric Council, whose eccentricities make the regulars look almost normal.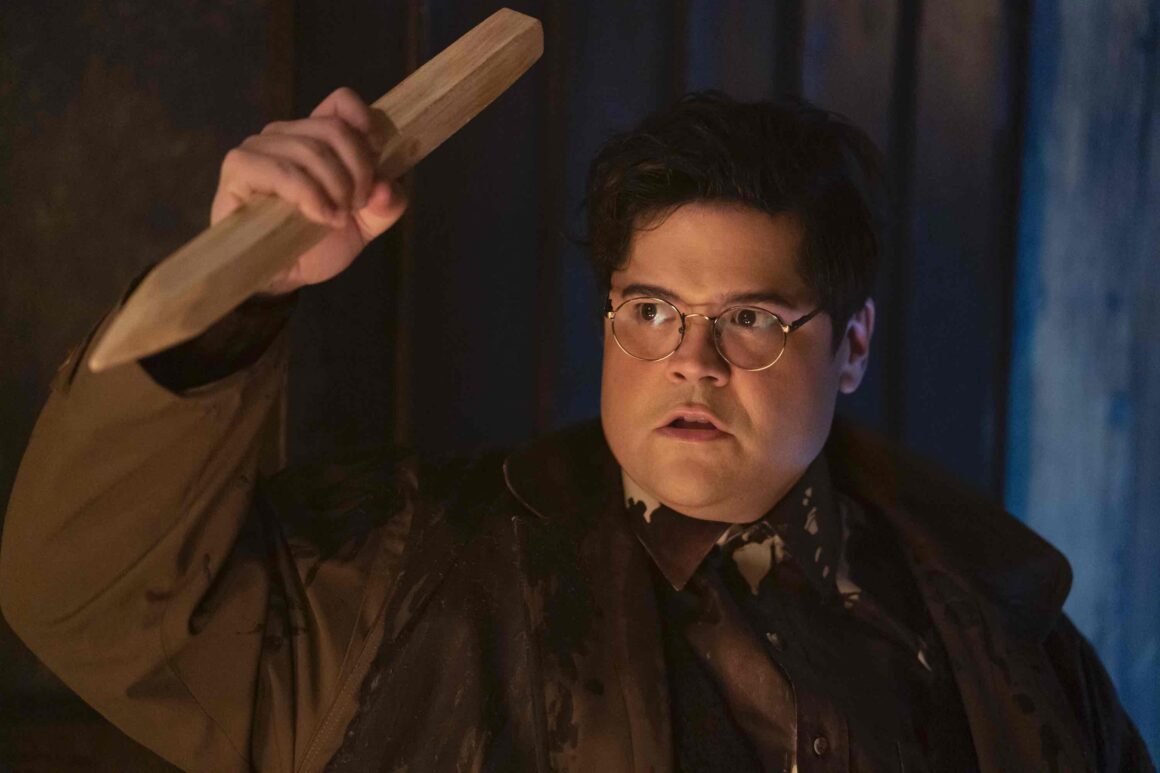 A big storyline in season three was one that was spawned from a joke in season two: Guillermo discovers he's a Van Helsing and thus descended from a long line of vampire hunters. "It started just as a gag because we had the episode we were doing about Guillermo getting everyone a 23andMe DNA test," Simms says. "We wanted to do a story about Nandor discovering he has a great, great, great, great granddaughter who's still living and is 85 years old. And just as a joke, we said, 'Guillermo finds out he's a Van Helsing descendant.' Which made us laugh, then we thought, Well, what if we really examine that? But at the end of that season, when we had it obvious that he is a vampire killer, we didn't have a plan for the next season. We painted ourselves into a corner, took a few months off and then figured out where to go from there."
Instead of banishing Guillermo or finding a way to drop the idea quietly, the writing team leaned into it. "I like the fact that in that season, it was one of the biggest problems we had to deal with––why would the vampires keep a vampire killer around?" Simms says. "So they made him their bodyguard, hypnotizing him to make sure he doesn't try to attack them. Then we thought of the idea that Guillermo has been hypnotized so many times he's immune to it and he's just pretending. It's a lot of subterfuge and fibbing just so he can stay part of the family."
We hope you enjoyed this excerpt!
If you'd like to read the rest of the article (another full 1,000 words) we hope you'll support independent film journalism and subscribe to Backstory Magazine!
What We Do in the Shadows season 3 is Emmy Eligible!
If you'd like to subscribe – feel free to use coupon code: SAVE5 to take $5 off your subscription and get instant access!
All you need to do is click here to subscribe!
There's plenty more to explore in Backstory Magazine issue 47 you can see our table of contents right here.
Thanks as always for spreading the word and your support!