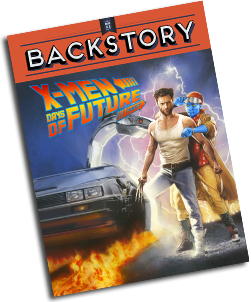 Click image above to display full-page artwork!
Folks,
Backstory issue 11 is now live on the iPad!
(all versions – even the mini)
We publish exclusively on the iPad and hope to have our magazine on the web in summer of 2014, so please understand this is a temporary home page.
There's a ton of great pieces in issue 11 – so – please grab yourself a free PDF of the table of contents by clicking the link near the top right of this page.
Issue 11 contains plenty of in-depth interviews with top directors, actors, screenwriters, playwrights, artists and is enhanced with multimedia elements plus full length scripts and excerpts for you to read!
The eleventh issue of Backstory is jam packed with full-length interviews from today's most innovative storytellers and includes:
In support of our cover, we have a great interview with screenwriter Simon Kinberg on bringing this classic X-Men tale to the big screen and a separate article with the writer of the original comic storyline—Chris Claremont!
Plus: A deep look into making Ed Wood with co-writers Scott Alexander and Larry Karaszewski and Oscar winner Martin Landau! Craft interviews with this summer's greatest storytellers for 22 Jump Street, Chef, Edge of Tomorrow, The Fault in Our Stars, Godzilla, Obvious Child and They Came Together!
Love reading unique scripts? We've got you covered with excellent summer reads including the never-before-seen entire first draft of Ed Wood, the Black List script Shovel Buddies and Milos Forman's lost screenplay Hell Camp along with an interview with co-writer Adam Davidson.
We also have long reads on Orson Welles' lost film Too Much Johnson and the curators who restored it, Entertainment Weekly writer Anthony Breznican's debut novel Brutal Youth, the controversial play Taste and much, much more!
How much more? Download or view a full issue 11 Table of Contents PDF by clicking on it on the top right of this page!
TO READ THE MAGAZINE RIGHT NOW: Type Backstory into the iPad App store and you can download the Backstory app for free.
Once you've downloaded the app – it will open in your Apple newsstand and when you touch the cover, it will then open the app offering you issue 01 for free (for a limited time) or issues 02, 03, 04, 05, 06, 07, 08, 09, 10 and 11 for $4.99 each.
If you want to save some money, please consider subscribing!
If you do not own an iPad – stay tuned for updates! We will be launching a fully interactive web version RIGHT HERE hopefully in summer of 2014 – so please check back soon!
—Thank you for helping spread the word and remember Issue 01 is still free!—
WE'RE BUILDING THINGS FAST – CHECK BACK SOON FOR UPDATES!