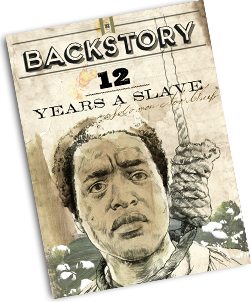 Click image above to display full-page artwork!
Folks,
Backstory issue 08 is now live on the iPad!
(all versions – even the mini)
We publish exclusively on the iPad and hope to have our magazine on the web by November 2013, so please understand this is a temporary home page.
There's a ton of great pieces in issue 08 – so – please help yourself to a free PDF of the table of contents by clicking the link near the top right of this page.
Issue 08 contains plenty of in-depth interviews with the top actors, directors, screenwriters, playwrights, artists along with video, multimedia elements and full length scripts, stage plays and excerpts for you to read!
The eighth issue of Backstory is jam packed with full-length interviews from today's most innovative storytellers and includes:
In support of our cover, 3 12 Years a Slave cover story that includes; screenwriter John Ridley, director Steve McQueen, cinematographer Sean Bobbitt and actress Lupita Nyong'o!
Plus: Quentin Tarantino interviews Robert Blake at Cinefamily, Die Hard co-writers Jeb Stuart and Steven E. de Souza on the film's 25th anniversary, J.W. Rinzler on turning a rarely seen early draft of George Lucas' screenplay The Star Wars into a comic book, actor-writer Danny McBride and writer-director Jody Hill discuss Eastbound & Down, the comedy writers behind The Robotard 8000, Diablo Cody on Paradise, A look into Willaim Shakespeare spoofs on Star Wars and The Big Lebowski, How reading teenage diaries years later in front of a crowd has created a Mortified Nation, also All is Lost, Ender's Game, Gravity, Kill Your Darlings, Prisoners, Rush, Thor: The Dark World—plus read a full length Black List Script, stage play excerpt and more—so dig in!
Download or view a full issue 08 Table of Contents PDF on the top right!
TO READ IT RIGHT NOW: Type Backstory into the iPad App store and you can download the Backstory app for free.
Once you've downloaded the app – it will open on your newsstand and when you touch the cover, it will then open the app offering you issue 01 for free (for a limited time) or issues 02, 03, 04, 05, 06, 07 and 08 for $4.99 each.
If you want to save some money, please consider subscribing!
If you do not own an iPad – stay tuned for updates! We will be launching a web version RIGHT HERE hopefully in November 2013 – so please check back soon!
—Thank you for helping spread the word and remember Issue 01 is still free!—
WE'RE BUILDING THINGS FAST – CHECK BACK SOON FOR UPDATES!