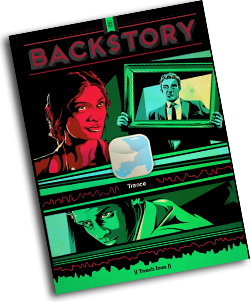 Folks,
Backstory issue 05 is now live on the iPad!
(all versions – even the mini)
There's a ton of great pieces in this issue – so – please help yourself to a free PDF of the table of contents by clicking the link near the top right of this page.
Issue 05 contains plenty of in-depth interviews with the top actors, directors, screenwriters, playwrights, artists and composers along with audio, video and multimedia elements.
We have 3 stories that support our Trance cover including in-depth interviews with: co-writer John Hodge, director Danny Boyle and actor James McAvoy.
To name just a few of our other highlights: Cocreator, writer D.B. Weiss takes you inside the writing process on Game of Thrones, David Koepp discusses writing Jurassic Park, Playwright Jim Leonard chats about his new musical, Bad Apples, based on Abu Ghraib – you can also read a scene and hear two songs, Tucker Parsons on penning his Black List script, Whalemen, which you can read in its entirety and Shane Carruth on crafting his latest unique vision, Upstream Color, and much, much more!
TO FIND IT: Type Backstory into the iPad App store and you can download the Backstory app for free.
Once you've downloaded the app – it will open on your newsstand and when you touch the cover, it will open the app offering you issue 01 for free (for a limited time) or issues 02, 03, 04 and 05 for $4.99 each.
If you want to save some money, please consider subscribing!
If you do not own an iPad – stay tuned for updates! We will be launching a web version RIGHT HERE hopefully in May 2013 – so please check back soon!
—Thank you for helping spread the word and remember Issue 01 is still free!—
WE'RE BUILDING THINGS FAST – CHECK BACK SOON FOR UPDATES!